Survival of 2019

As many trips involve exploring, ice, snow and obscured visibility most of them turn out rather nice. A clear winter day just after a snowfall makes a beautiful ride in the mountains. An idea group size is 4-5 people, generally close to abilities in the riding.

Since most of my riding buddies were getting close to end of their season, I called my only available riding bud for a spring ride to the local mountain in Washington. I also needed to run some fuel stabile (for summer) and a short ride would be good for that. It's a relatively short drive from our place to the unloading areas. Calispel Peak is about 6853' ASL at the top; located at 48.43686 North, 117.50271 West by most sources on the web. This makes an impressive winter pack, along with the summer trip with very rough trails to get there. There's something for most riding skills. I've been riding that mountain since 2003. I've also worked there on radio equipment since 1980 both by summer vehicle, winter tracked vehicles and by air.

Conditions were spring-like with some light rain. The trail is about 6 or 7 miles in for the play areas. On the trail it turned to snow on the surface. Since my partner did not have a real long track I felt this would be easier riding for him if we stayed on the trails. I wanted to show him around the great view. Near the top We got to the open play area but it the visibility was poor. The drifts were fairly significant as well. While I have ridden in conditions like this over the years I did not see the point of going any further so I told my partner it was too dangerous to continue.

We headed back down however, I missed our (uphill) tracks. Getting disoriented going down I asked him to standby while I find the correct route back down. Because of the poor visibility now, I ended up in the wrong area. To make matters worse it was 3" of wet snow on top of ice. Going downhill I started to slide and was not able to stop. As I think back, I either fell off or jumped I ended up hitting some tress to cause severe injury. Because of my training over the decades I knew I was in deep trouble. With a compound broken leg I was able to drag myself back uphill to my sled to get my radio out of the bag to call my partner. Radio coverage was extremely weak but he was able to find me, listening the signal quality and move in to my crash site. That was only the first stage of this mess.

We were able to phone in for help about 11:17 that day using his flip-phone with a half-run down battery. I had to keep the call short and check back with 911 once an hour. I knew it would be a long time for any help to find us. I asked my partner to cut up some small tree branches both for a splint (using rope I normally carry) and making a fire. The fire also provided warm water to stay hydrated. It took about 4 hours lying in the snow before being rescued by air. The other problem was the earth coordinates given from the cell tower was about a mile in error. Therefore, it took several hours to be found. Even though I was properly dressed I was in the second stage of hypothermia later on. It wasn't my time. Only when the clouds parted four hours later they could see us from the air. When they arrived I was extremely happy. The air rescue group hovered for about 20 minutes for them to descend to care for me, then hoist me and the rescue folks for the flight to town. I believe the ground rescuers were there about the same time. My partner and the ground rescuers headed back to the parking lot. My parnter returned to the parking lot a few days later to drive my truck back to my home.

The 20-minute flight to the hospital was good. Prossesing in the trauma room was another story. Three days later I was able to come home to start the long recover process. As I saw the crash site from the air I see I was about 150 feet from a (rough) road down hill. Had I been able to see (and navigate) I could have avoided this traumatic and very expensive event. That will be the last time I ride in the fog. Blue bird or clear skies or no riding for me. The image shows a routine air rescue practice. The same type of craft (UH-1) was used for me.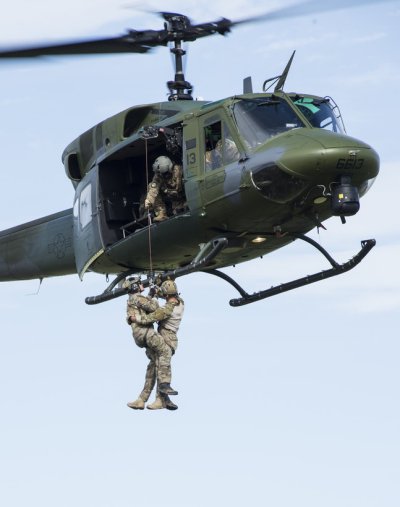 A very special thanks goes out to the U.S. Air Force, the 36th Rescue Squadron for their successful airlift rescue. They have save many lives, mine included. As the logo says "That others may live".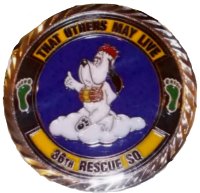 The squadron is talked about here on the Wiki.
For the civilan version, here's an exellenat (very detailed) document about air rescue operations. Anyone that reads this can appricate what's involved to safe a life in the woods. Manual for air rescue.



About a month later some helpers I met went back in to locate and ride out my sled. Sled damage was significant however, repairable. My advice to readers is to be prepared for the outdoors.
Also consider:

Cell phone towers can give bad coordinates for the 911-call center. Also, there may not be cell service in your incident area.

It's best to carry your own GPS unit and know how to use it.

A personal locator beacon may be better. They do cost for the service, however, your life is worth it.

Have a good attitude being in the outdoors and don't panic. Survival training is a plus.

Most outdoor folks use the FRS type of radio. It would be great if the ground and air SAR had those frequencies to save lots of time locating the victims.


Story by Karl Shoemaker, 2019

The fine print

Disclaimer: Snowmobiling in the mountains may expose the rider to occasional risks. By reading this document you assume responsibility of you and your companions actions, which, in some cases, could expose persons doing such, to possible injury or death. The Author assumes no liability or responsibility towards the reader's actions of such activities while snowmobiling in the mountains. This document is for information and education only. No part of this document may be printed, reproduced, copied or otherwise modified without the Author's written permission.

Copy write May 2019