Clothing
This page is guidance to ANY winter sport, whether skiing, snowmobiling, hunting or anything outdoors in the winter, in cold weather. The main object is to stay dry, which will allow your body heat to keep you warm. Unless you've read this paragraph (from the other page) remember, that your clothing should contain no cotton items, especially inner clothes layers. NO JEANS ! Cotton feels warm while dry, however, while snowmobiling, you will get wet from the elements and body perspiration. Once that happens you will feel cold and clammy. This is barely enough to endure the daytime. If you were to stay overnight you'd be hurting...or worse.
Layers are best started with non-cotton "long johns", such as the poly (wick away) type. As an option, two layers of socks are good, with the first pair being thin, then a thicker pair over the top. When sizing your boots take this into account. Bibs and a jacket are very common with snowmobilers. The author prefers the one-piece suit, which is the best protection against the cold and snow getting down your back. One downside to the one-piece suit is you have less control of regulating body heat. These suits can become very warm in bright sun and spring conditions. If you choose to go with the one-piece and happen to strip off the top end, make sure you tie off the sleeves. If they get caught in the track it can pull you off without warning and cause injury. Some words about helmets. Over the years the author has only worn only a hat or furry top. Most of the travels have been at less than 20 mph. With technology increasing sled performance and speed wearing a helmet become necessary. They provide fair protection against a hit and also fairly good protection against the cold wind. A "balaclava" provides addition cold protection. It's like a head sock, usually made from fleece and is inexpensive. When sizing your helmet take this into account.
It's the little things that can make your day. Pay attention to what you wear. If you're into fashion, fine, just keep it practical. You can do a "google" search off the internet. Obviously not all days are going to be perfect, like the sled ride, which it rained all day, but for the most part some planning goes a long way. For (survival) training and lots of research the Author has a well organized system and has proven for success to enjoy the sports, while keeping warm. There are several sources/venders/store out there for both men and women's sizes and styles. We will start from the head and work to the toes:
Head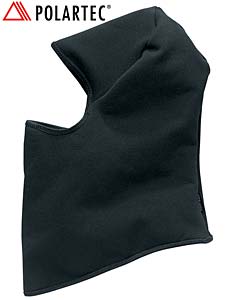 Balaclava; it's like a "head sock" with an opening for your face. They normally are made of a fleece material and costs around $20. One source is Cabela's Outfitter Also for underwear, outerware suits, socks and other cold WX gear. Their number is (800) 237.4444.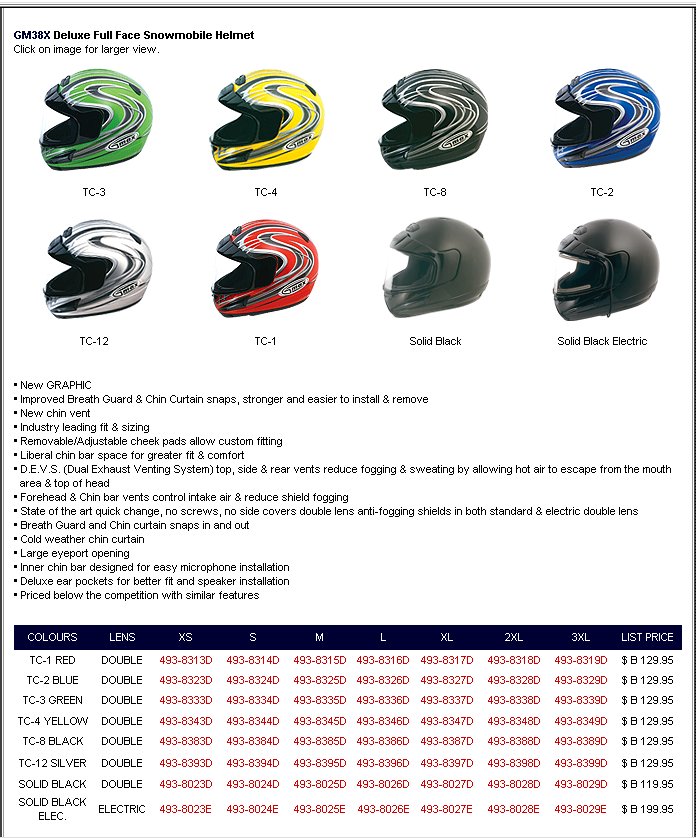 Helmet; if you are snowmobiling a good helmet (for your money) is the Gmax, model GM38X. They normally sell for $130, but if you look around (or can wait) they can be on sale for $68. Their site is G-Max.com and most of the dealers in your area probably carry them. If you wear a balaclava, take this into account size sizing your helmet. Another tip: don't rely on the "L" or "XL" labels on the helmet; TRY IT ON; you'll be wearing this all day, for hours and it better be comfortable or you'll be miserable. It should be just a little snug, but not too tight. Too loose won't hurt anything, but might be annoying. Decide on the closes, best size for you. Ask the dealer about anti-fogging products. Even though spit works (water diving tip) some prefer a more refined way of fog control. Fogging will occur most of the time, especially when you have the hood down and/or wet, warmer, snowy days. The Author uses the hood down on those cold days. On warmer ones (25-40) leaving the hood up and wearing sun glasses works better.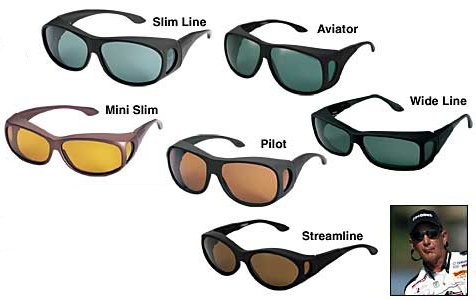 Sun glasses

If it's sunny (or even bright-cloudy) you will need them to protect your eyes from the UV rays of not only the direct sunlight, but the reflections off the snow. Try to find a set with good " UV " blocking ratings. "UV400" is a good choice. " IR " blocking is a plus, especially for that sun-heat reflected off the snow. Dark (looking) glasses does NOT mean they will protect your eyes or have the UV blocking. Explain MORE
Also, when shopping for sunglasses look for good eye protection, comfort and a style you prefer. In the picture example is the brand Cocoons. If you store them during rough sports consider a hard-case. Some only come with a soft "pouch" that can be a pain to use and don't offer much protection. For snowmobiling and storing in the seat always use a case. The vibration will scratch the lenses in less than a minute. Speaking of the lens, the materials differ quite a bit. Three materials are commonly used for sunglass lenses:
Polycarbonate, a durable lightweight plastic.
CR-39, a plastic used mostly in prescription-grade lenses.
Glass, durable but much heavier to wear.

The author lined up some past and present ones. All of them have pretty good-to-great UV protection rating. Using a spectrometer and graph the plot would prove this, however is expensive to obtain for use. As it was explained to the author that they need to indicate the lenses exceed X80.3 ansi standard set by the FDA and block 100% of UVA, UVB and UVC. Most of them have this rating.
Remember, some of these pictures are enlargeable, including this one, which has numbers for each piece tested. Starting from the left, is an old favorite style of "avar" with the full, large coverage area. The brand, Ski Optics proved to be a good filter for the UV. It is rather on the dark side for shade, so is only for bright sunlight conditions. It cost about $35 in 1980. Because of it's age/lense cracking, it's "retired" only for testing and display.
Next is construction type safety glasses that cost about $7 in 2008, brand of "AO". This is popular with contractors and still has the 99% UV protection. You can check out their web site, too. It came with a spec sheet:
Next is Angle brand. This was mail ordered and ended up very unsatisfactory for the author mainly due it's small size. It's cost in 2006 was about $10.
Next is Coyote USA band, model Sedona, with photochromic lenses, which means it auto-darkens from UV exposure. The author has mixed feelings about this feature, however is popular with most people. It was obtained on a sale-price of $30 in 2008, normal higher priced. They have very good customer support and can be contact on their web site. They seemed to specialize in eye protection.
The last is Body Glove, model Oahu, cost about $40, again on sale in 2008. You can check them out on their web site. They have a lot of other stuff, so the eye wear is kinda a side-line. Both this and the other brand of glasses seems good quality.
After much comparing it was a close decision to keep the Coyote for high quality protection and the AO for all-around beating.
Sun screen

While we are discussing sun issues you may consider the "goop" if you plan on exposing parts of your head or body for long durations. Here's what to look for in sunscreen:

UVB protection: Padimate O, Homosalate, Octisalate (octyl salicylate), Octinoxate (octyl methoxycinnamate)
UVA protection: Avobenzone
UVA/UVB protection: Octocrylene, titanium dioxide, zinc oxide, Mexoryl (ecamsule).

Another means to block UV is sun protective clothing. This is clothing that has a "UPF rating" that describes the protection given against both UVA and UVB.

Underwear-body base layer
Shorts; Even on this department NO COTTON ! High performance shorts come either in boxer or brief, and made of materials like nylon, polyester, or anything synthetic that wicks away body sweat and odors. For men, if you have a "floppy problem" have your wife/S.O. sew up the fly for "secure" riding. These shorts have elastic bands for a quick "nature call". For anything serious, then you'll have to find a "bush" and strip down. Again, one good source is Cabela's Outfitter For the brief the part number # 90-1467 is a good choice. For related items the direct link will show you the MTP series performance underwear. If this link doesn't work (stores change things) just do a search for "MTP" on their web site's search engine for similar (boxer) items. Their site is somewhat hard to find items, so you could also call them at:(800) 237.4444. The staff is competent and friendly to obtain help from. They have several stores from the mid-west and are expanding out in the Pacific as well. They also have a good return policy. Even though you pay shipping on return they are willing to work with you on exchanges.
"Long Johns"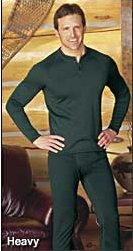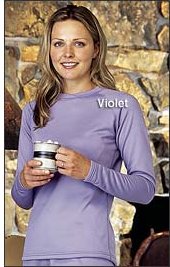 Cabela's does carry the "MTP" and other cold weather series of underwear for both men and women. Two piece (tops and bottoms) are most convenient for a (quick) nature call, especially for woman. This probably will work for most people, especially the younger bunch. The Author feels this is not enough protection for cold, or even snow wanting to get down your back, either from the spray from playing in the deep stuff or your buddies getting even with ya with a snow ball fight. If you are organized enough to predict your body's functional needs, a one-piece (union suit) is the best protection. Most union suits worth anything were plenty full in the 1980's, however, recently have been almost scarce. A good suit will fit firmly, without sagging and have a well made zipper, double ended. Cabela's does have one union suit, however it's only buttons and they can make a "floppy" fit on your body. Plus, the buttons just do not keep out the draft on those windy outings.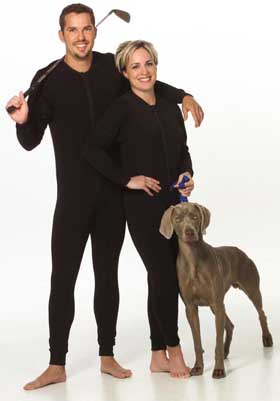 An excellent source was finally found in 2004. Carol Davis Sportswear's thermal underwear line is 100% made in the USA. As they say "No third world labor for this company" so they keep it in America." (This is unusual these days). "All of the products are made from the top cold-weather fleece on the planet – Powerstretch Polartec only from Malden Mills. This is the only mill in the world that has the technology to make this fabric. It's ultra lightweight but super warm. It stretches in all directions to give a wonderful and comfortable fit. The fabric wicks perspiration quickly if you get sweaty, it breathes to help keep body temperature even and it retards the growth of body bacteria so it controls odors beautifully. It is machine washable and does not shrink. " The Author uses woolite, although, there may be alternative methods. Just check with them and/or follow any special washing instructions that may be on the clothing label, to preserve the properties.
"There are four styles of the full body union suits. Some have zippered rear flaps which make it easy for nature calls when you are out in the cold without having to take all your clothing off. Some have stirrups to keep the pants leg well-anchored and anchoring thumbholes on the wrist cuffs to keep the arms anchored when you are pulling on other layers. If you don't want the zippered rear flap or stirrups, two of the suits have knit cuffs at the wrist and ankles and no rear flap. All four suits have a two-way front zipper which opens from the top and bottom for easy elimination. There's a style for every activity. They run about $100 and well worth every penny of it. They also have some other products including skull caps to keep the head warm and dry, socks, old-fashioned dickie neckwarmers and hooded mittens. You will get personal service; not like at the big department stores." This is believed to be a family, small business and they are very easy to work with and competent. The Author HIGHLY recommends checking them out by:
Visting their web site http://www.cdsportswear.com, or Emailing , or
The old fashioned way of calling them at: (501) 835-6331; Either way, be sure to tell 'em
Karl sent ya !
Extra body layer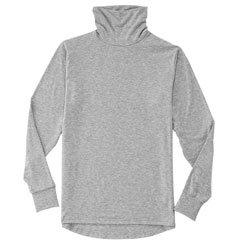 Over the "long johns" can be a turtle neck shirt. The "tall" version enables good body coverage as well as insuring you have plenty of "arm" room for active sports. It also helps in keeping snow out your neck and back areas. Again, in the 1980s "poly" type (wick away) was plentiful, but now, it's very hard to find a "regular" turtle neck. Most sources have the "mock" or just don't have the proper material, being cotton. Recently, Wickers Company was found to start carrying them again. Here's where you can navigate to their web site to find one of three choice colors. You can order on line, mail it in, at: "Wickers America", 340 Veterans Highway, Commack, NY, 11725, or call 'em at (800)648-7024 or locally at (631)543-1700 in New York. Hours for phone are M-F 9am-5pm EST.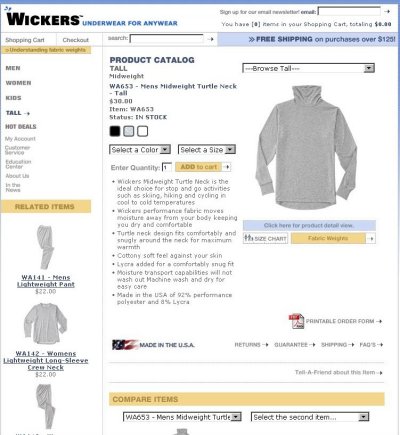 This Company is an old favorite of the Author's since the beginning of winter activies. If you're interested, here's some history on them: "Wickers was started in 1981 by Anthony Mazzenga, the founder and current CEO and Chairman, as Anrotex Inc., which was primarily a fabric company. In 1990, seeing an opportunity in the performance underwear market, Anthony combined the innovative fabric company with performance garment manufacturing to create Wickers Sportswear, Inc. In 1998 he set up Wickers Europe to market performance underwear garments primarily in the UK. Wickers.com was set up in 2000. Since its inception, Wickers has been a leader in the development and introduction of performance fabric technology. Wickers pioneering development of its propriety Akwatek fabric, established a new standard by which all other wicking technology fabrics were judged. The fabric has been tested by independent agencies and found to have capabilities superior to that of standard "wicking" fabrics for thermoregulation in performance sports apparel. The combination of superior fabric technology with garment manufacturing allowed Wickers to build a business supplying the major outdoor retail chains and catalog companies.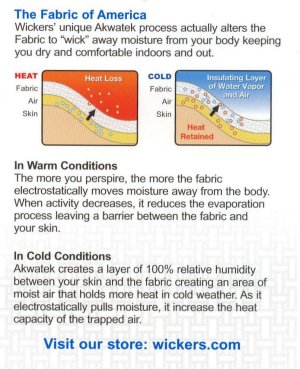 The list of Wickers customers read like a who's who of the outdoor industry: L.L. Bean, Lands End, Recreational Equipment Inc. (REI), Cabela's, Eddie Bauer, Eastern Mountain Sports (EMS) and Bass Pro Shops to name a few. From the very beginning, Wickers has maintained a firm commitment to American sourcing and labor. Our feeling has always been that the best way to deliver quality product and service was to stay as close as possible to our customers. To accomplish this level of service Wickers established an American based supply chain for its yarn, fiber, knitting, dyeing, and apparel manufacturing This strategy was beneficial to our customers as it shortened the lead time between order placement and delivery, allowing our customers to stock only those items, sizes and colors which were selling. Such practices help to reduce end-of-the-year retailer inventories. The result is increased profitable sales for all parties."
Gloves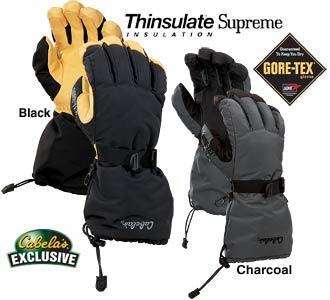 Depending on the sport, you'll have to choose between mittens and gloves. Obviously, for skiing and snowmobiling you'll need gloves. Pick a good set, with water repelling (such as Gortex) and good abrasion resistance, such as a thin layer of leather on the palm side. Good dexterity (it can bend and you can grip and feel things) is import as well. Again, Cabela's Outfitter is a good source. The Pinnacle glove is a good choice, in two colors, one being part # 92-1909 and goes for about $50. Generally a glove liner is not needed for active sports, such as skiing or snowmobiling. For hunting or extreme weather (arctic) they may be needed as well.
Outer layer-shell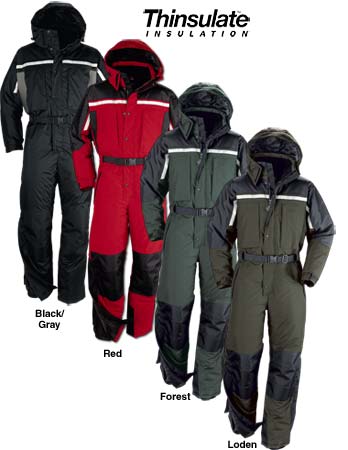 Like the underwear, you can go with either two or one-pieces. Most skiers and snowmobilers like the two piece. For riding, bibs are very common, with some sort of jacket on the top. Again, Cabela's Outfitter is a good source for one or two piece outer ware. If you prefer the one-piece, like the Author does, try the "Snowy Range Suit", part number # 92-1593 for the "tall" type. Be sure to specify the other size, such as "large" or "extra large", etc. They should have sizes for both genders. The only downside is this is not waterproof. However, with ScotchGaurd application can help. Again, their number is:
(800) 237.4444.
Socks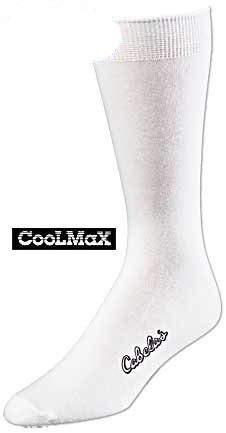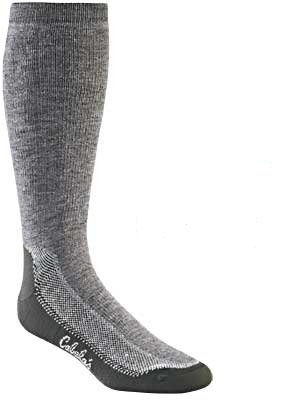 This seems like a minor area - it is NOT. Use a thin, wicking type on your feet, with a slightly thicker layer over them. When sizing boots it's import to take the socks into consideration. Again, Cabela's Outfitter is a good source for socks. Try getting the "Liner type" part # 82-1332 for the Coolmax* "mid-calf", or 82-1333 for the "over-calf" style. The Author found the former to work best. They go for about $8. Next, wear a second layer of heaver type, such as the 10" medium weight, # 82-1419, or the 16" medium weight, # 81-2555. Remember not to get too "sloppy" or your will swim in your boots. On these Cabela stock numbers, may have a prefix, depending on which catolog or site you order from. Sometimes the system will substitute for the correct number. Of course, if in doubt, just give 'em a call at (800) 237.4444.
Boots


This is a pet-peve of the Author, who has had cold feet in the past with old "Sorels", ending up warming feet on the hot exhaust of a snowmobile, while the others are out having fun riding. If you are young and have good circulation you may get by with lessor boots. If you are old, and wish to be able to stand around for hours, for example for hunting, buy the best boots money can buy. Amputation from frost bitten feet is a much higher price to pay by saving 50 bucks or so on some cheaper boots. There are several sources, including most of the snowmobile dealers, which work for most. For best protection against the cold, the author recommends White's boots , who just happens to be (factory) based in his home town of Spokane, Washington. You can order White's boots from many outfitters or call the Spokane factory at (800) 541.3786; or local is (509) 535-2422, or stop by at 4002 East Ferry, Spokane, WA 99202. They have a warranty program for replacement laces and will custom make the eyelets with little or no extra cost. They come in two temperature ranges, with about a $20 different. Both models have removable (felt) liners, which is very handy for quick drying, should you be at a motel, wishing to ride the next day. The "Mountain" sells for about $180, while the BEST, called the "Yukon Survivor" sells for $200 and is worth every penny. It has insulation even on the soles. This makes a difference if you are standing around on the snow and ice. They are available in full sizes from 3 to 14, in "normal" width. Most men will take about a 12; and the Author found they worked fine, even for wide feet. They should not be too snug, as that will defeat the circulation/heat process. They are a little on the heavy side, so you'll need try a set on before making your (wise) decision. Remember to bring the socks (or sets of) you plan to wear for the sport. This direct link to their Their Pac boots will show this model. In the event the link is not working, just ask them about the "Yukon Survivor" winter boot, with the insulation on the soles as well as the sides. It's the left picture.
Sealant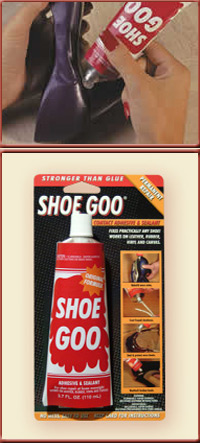 Here's a tip: Sometimes you'll be stepping off your sled in woody areas, or even catch them on the running board's edges, cutting into the rubber bottoms. You need to seal any cuts as soon as possible to keep water from seeping into the insulation layers of the boot. First, completely dry then out, at home and the use a good sealant. The Author found a great brand called "Shoe goo". It's a Japanese based company, and most common hardware or shoe stores carry it. It also has a presence on the web.
Speaking of cuts, this may work on plastic snowmobile seating, however has not been tried by the Author, since "RTV" silicone glue works good, as well. Just a thought.
Bags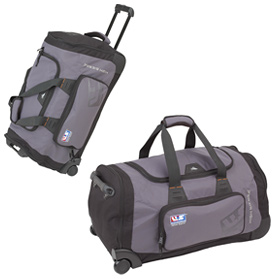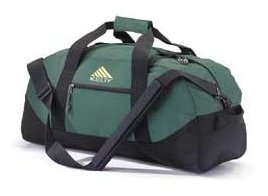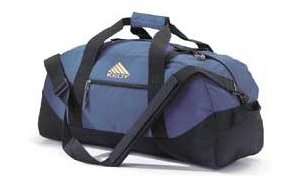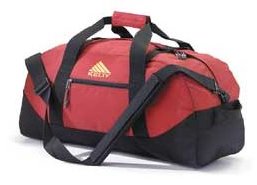 With your boots, helmet, sunglasses, maps, cell phone and assorted other items you'll need a large bad to carry them in, to the site where you'll be unloading and dressing for the sport.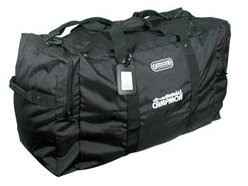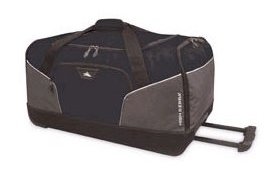 Most sporting goods stores has carry bags; so does the common ones like Wahl Mart. The mentioned Cabella's outfitter does have some items as well. Campmor also has a web presence on these items. That, plus two others are:

Sports Authority Also, you can do a Google search. Be organized and you'll be on your way for a fun sporting day.
---