I like to sidehill. Sometimes it's nice to have the uphill on one's left. It's really hard to reach over to the (normal) right throttle paddle. Therefore, I built my first left throttle 2001, plus, in 2002 I continued to gather information on several other's brands, sources and ideas from other individuals and companies. (While reading here) the pictures will load, below. I'd highly recommend one for anyone even considering doing any mountain climbing. It also gives your right hand a rest on those long trail rides.
With a choice of either a handle or "flipper" on the left, there are two basic types of dual throttle systems:

2. Left side OR right site pulls on a common cable, down inside the engine compartment.


There's a few issues you should be aware of. Commercial ones cost more, but you save your precious time (by making your own), and after all they are in it to pay the bills, right ? You decide which is important to you. You MUST also understand any safety issues that can come up. This might be why to date none of the snowmobile manufactures make a dual throttle system, yet. Guess it's some liability issue. Here's my understanding of the two types of dual throttle systems.

The type # 1 is the simplest system. Works well, and sometimes, lower cost, if you choose to build it yourself. It keeps the throttle safety switch feature in tact. Personally, I don't care, since I'm probably going to have that feature disabled while hill climbing. If this safety "feature" happens to fail while turning out on a steep climb you could loose your sled. In my opinion, this safety feature is best left for the trails, which I'm a firm believer in safety, since higher speeds are usually experienced there. Plus you have the on-coming sledders, just like on the regular road, with a car. Therefore, I might install a "HILL"/ "TRAIL" switch later. A tether switch is a good alternative as well.

The type # 2 is the cleanest system. All the extra cable stuff is out of sight and out of the snow. However, to my understanding it will disable the throttle safety feature described, above. This was my next choice of system, however, I've heard of some issues with it sticking. So....on to the pictures, starting with my first (type #1) prototype.






For my '97 Cat 580 I went with the type # 1, in December of 2001. With $10 and a trip or two to the second hand store I picked up a bicycle brake handle, the cable and stop nuts. I remember scraping the bottom of the box, at the store there, thinking in the back of my mind, the next time I'll have to buy new, or at least skip the second hand store and hit the bike shops. I studied my design off and on for a few days, installed and gave it a try for the season. It worked quite nicely for the last two season, with one slight problem that I didn't bend the left handle in a hook, so sometimes it was a little bit of a hand full while operating. But it was cheap and reliable, so I left it alone.

Now for some details; I fabricated the adaptor for the right throttle, as seen here in the next three pictures with different angles. Also you can see the cable and stop nut. Sometimes it's not needed, since the left side will be pulling with or without the cable housing, however I choose to install it anyway. Guess that's an old habit from my earlier days of bicycling.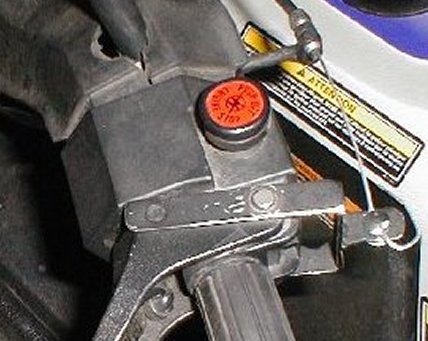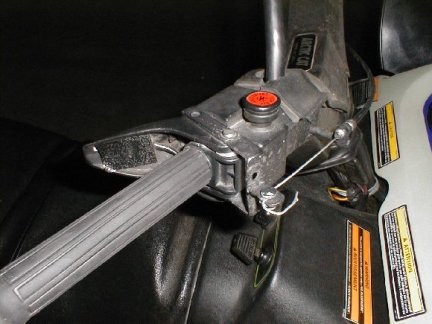 For the cable stop nut "T" bar, I welded a little flat piece of metal on the end, then hose clamped it onto the (stock) handle bars. Incidentally, that's how I mounted my custom mountain bar, using four hose clamps. Sometimes I reef on the hand bars pretty hard, when getting out of a tight spot, like on the edge of the road. I tip and punch it at the same time, and power out of the spot. I do not like those "floppy" mountain bars, so I used some soft round steel, with RG-8 coax PVC jacket over it. It's not a real cushy bar, but works very well and with gloves on it's fine on the hands. Next time, though I might use a brighter color for the jacket, just to spruce it up a little.
For the left side I welded a bolt on the existing bicycle brake handle housing. That year of Cat has a really nice hole in the stock brake housing, so I slipped the bolt/handle/assy in that hole and secured it with a nut, plus a "keeper" nut, since vibration is a sled's middle name. This keeps the installation "clean" and in the event one wished to return the sled to stock, will be easy. You noticed the dab of RTV? One outing I had a high idle problem. Came to look the cable housing had moved out of the little "cup" that holds it, effectively tightening up the cable and keep the throttle open a little. Not dangerous, but by gluing it, now keeps it in the proper adjustment.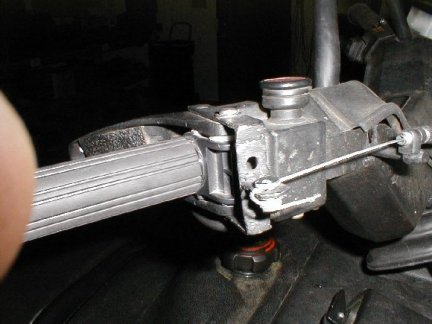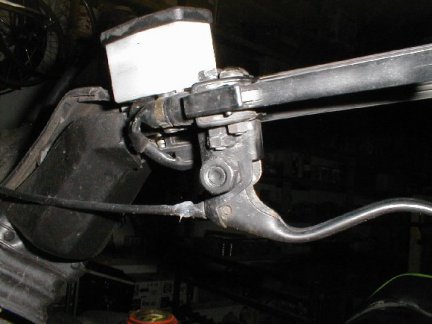 I suppose I should mention you had better get used to having another lever, so near the existing brake lever. I painted mine 'cat black' but thinking about changing it to some thing more obvious, like 'cat green'. Anything to stand out against the brake lever. Another trick (Roy did this) is heat up the handle and bent it around somewhat into a semi-loop. I got used to the straight out approach, so won't be doing it, but that'll give you another idea to play with.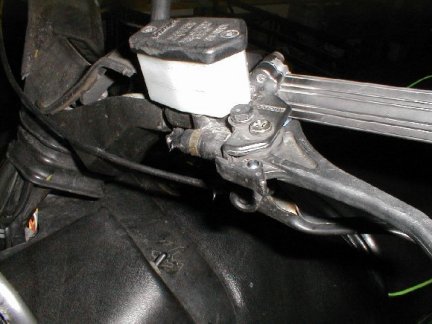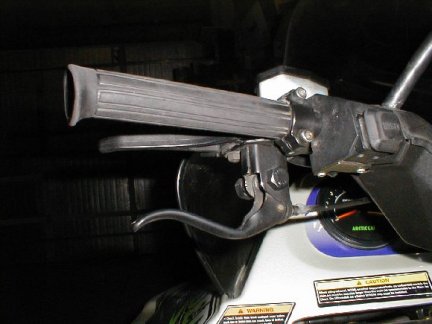 Now, I got some questions on the adapter lever from the group, so I took some more pictures, paying attention to that detail. These next pictures should explain the way I did it, better.
Here's with the throttle in the closed position:and opening it.....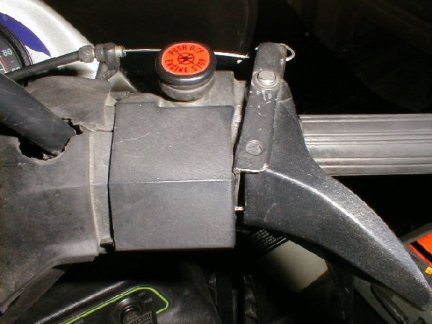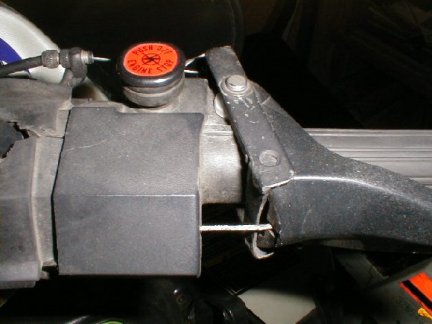 Now, I moved the adaptor out a little from "resting" in the stock paddle. Notice it does free turn by itself. This is important as an additional safety so it does not interfere with the normal (right side) operation. Now moving it farther away so you can see this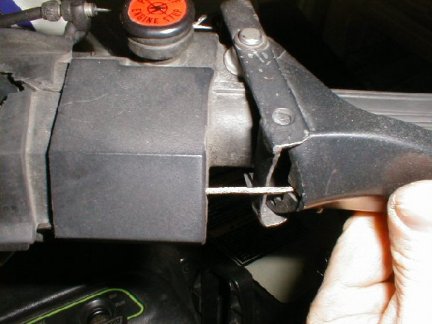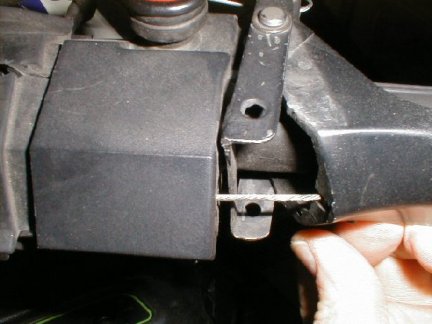 Another angle of the same. The stock throttle cable does 'just' touch the inside edge of the adaptor, but does not seem to hurt it. If I happen to have it apart I might grind down a small notch, so the cable does not have any chance of rubbing on the edge, during WOT position.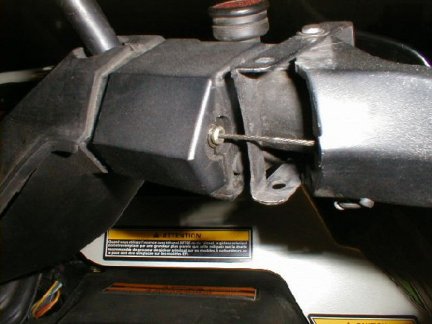 One more angle to show the adaptor does pivot both on the top and bottom of the stock "pin". I felt this important for low resistance. I've seen some lefty's that only pivot on the top. To make room for the addition thickness of the adaptor I (think) I left one or two washers out. Another option would to get another bolt a little longer than the stock pin. The stock pin uses a "C" clip to secure on the bottom; I have mixed feelings on this verse using a nut and a keeper nut, or a nylon (insert) friction nut. Anything mounted on a sled is going to be subject to a lot of vibration.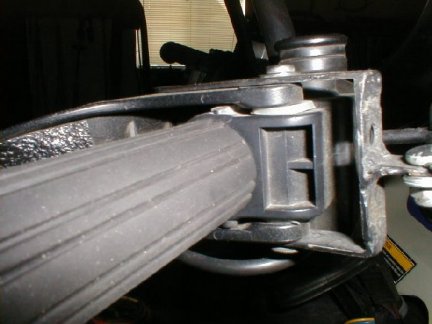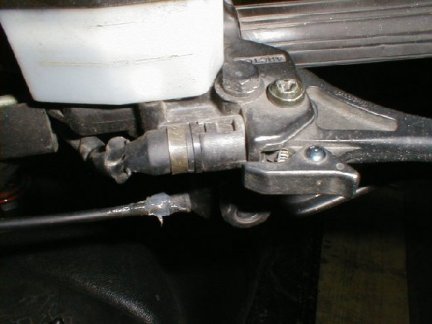 Now onto other folks's versions. Small disclaimer: If the company's prefer me NOT to list their product here, please contact me and I'll remove it. It' only trying to help out by providing the information to us snowmobliers, the customers, so they can make the appropriate choice. It works out for everyone this way. No regrets. OK, without further delay, here's the others: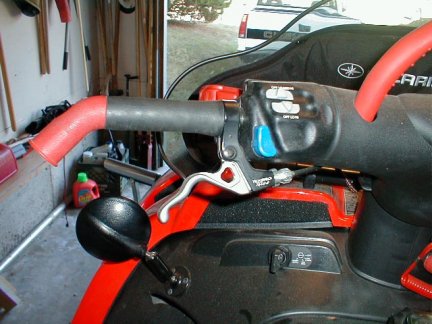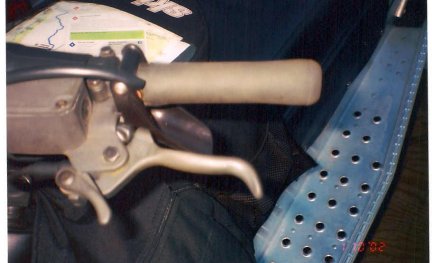 Individual ones......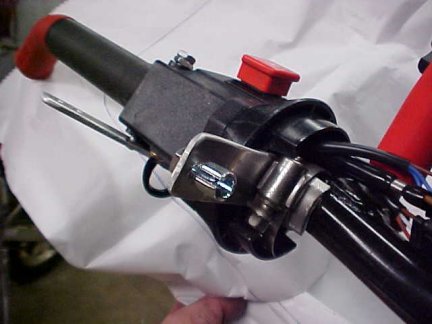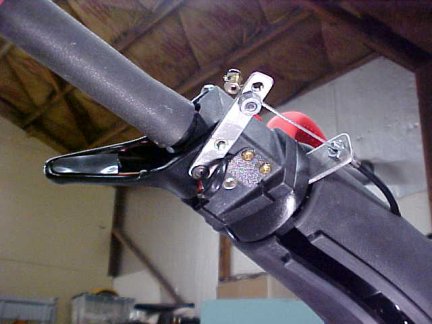 .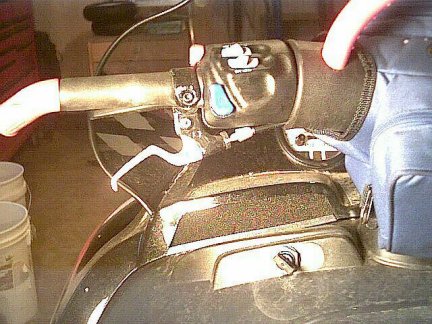 There's a Mike that has a page on his version shown, here. His web site for his RMK, will have all the details.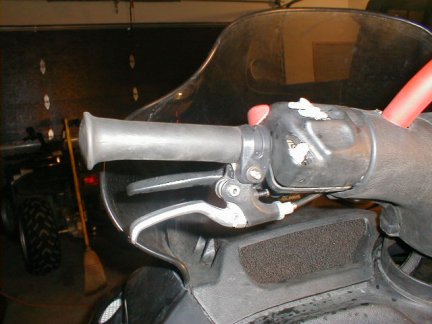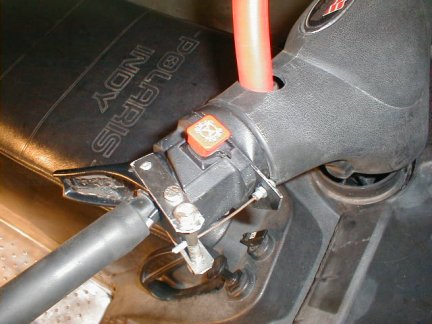 Well, guess what? Mike just added a new version......so here's link to that Web page . Here's just a sample of his many pictures and detailed construction notes. He's one of the first home made projects I was impressed with. Again it's for a Polaris, however this will give you ideas for other brands as well.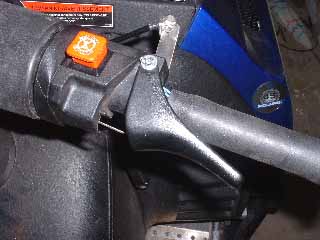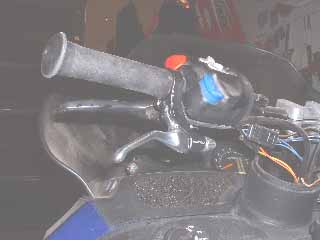 Here's another one by a fellow of Tayler I came across.........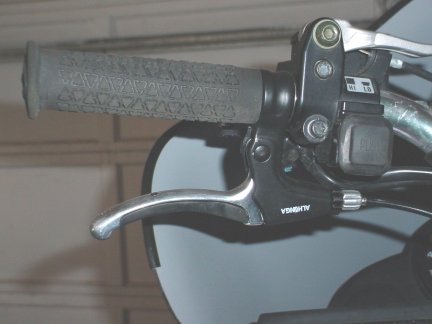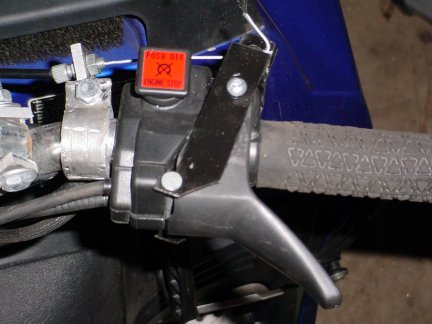 .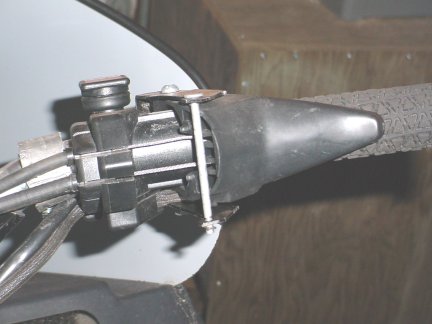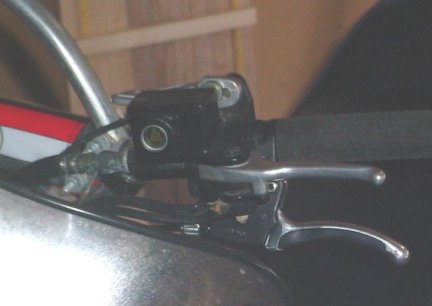 Another one I just found for Cat, which has the challenge of enough room on the left side, between brake strap and the hand warmer.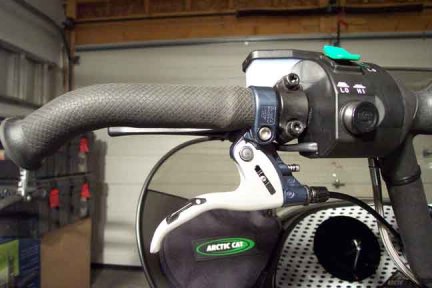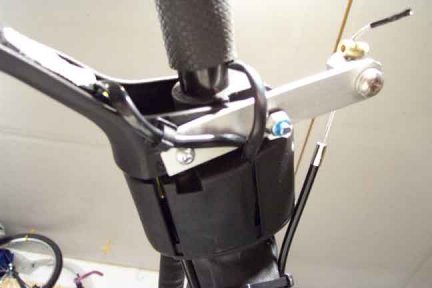 In Nov 2003 I found two more guys from Snowest did their Cats this way.The first three pictures are by the handle of "Skinnny".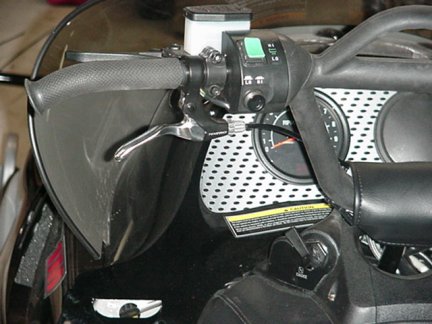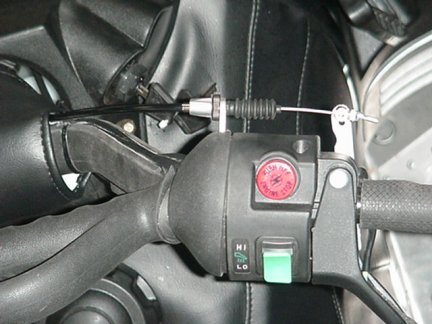 The last one on the right is by "ZR8RIDER"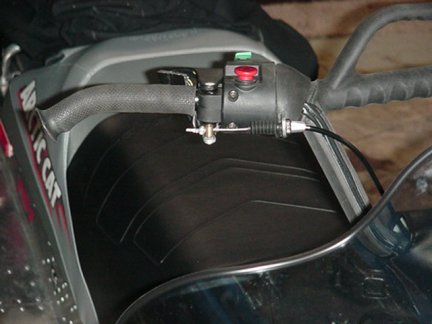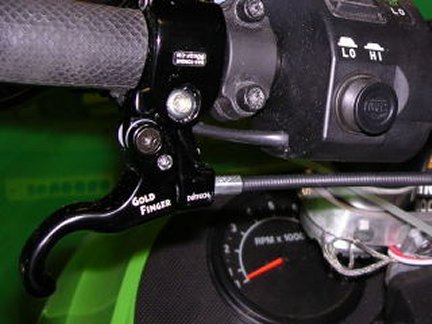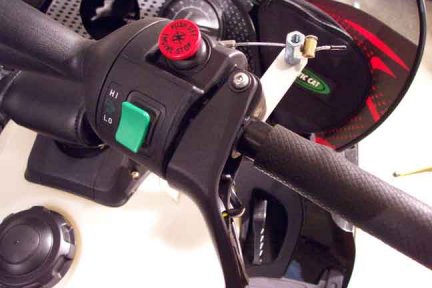 This one looks like a commercial one, however I don't have any other info on it, as of this time....it looks like a Cat setup on the left, as you can see by the brake reservoir, but that's just a guess, at this time. I'm guessing it's the same as the next two, below which is Power Madd's.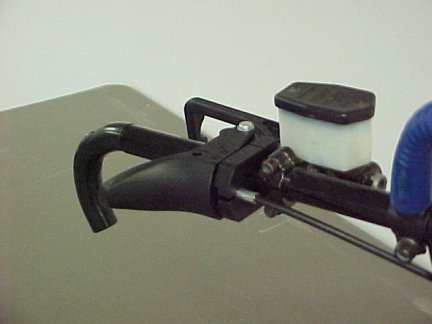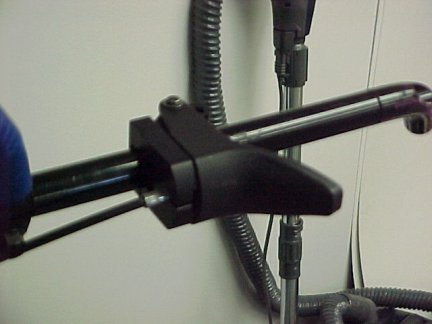 Here's the one from Gravity Worx Racing. I've written the owner and he's updated with his contact info:
Darrin Williams is your contact,
3527 S. Federal Way, STE 103 PMB 39
Boise, ID 83705
(208) 353-5105
They've put out an updated version from last season's model and as of Oct. 04 still the same price of $75, and that's WITH shipping. I assume that's in Canadian dollars. I personally like the silver, but you can get a black handle, as well. You can order from their site ; Also his site is set up for SSI through PayPal. I would image if you contacted him other arrangments could be asked for. This guy is interested in your business.......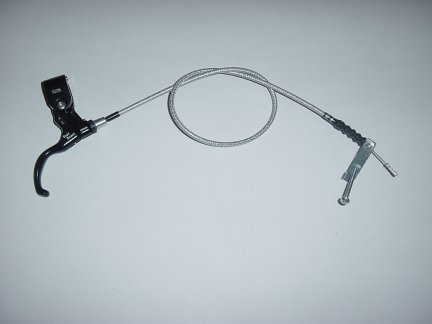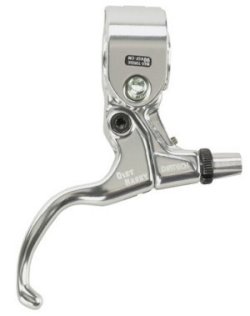 This one from PowerMadd looks like a good one; they are suppose to come out with a change in December 2002. They are at 1353 Larc Industrial Blvd, Burnsville, MN, 55337, at (800) 435-6881, or (952) 400-0101. Somewhere around $135-150 Here's their Web site Also if you check with your dealer, who carries Western Power Sports products, check in the catalog for part # 12-3913. It's just the left side kit for about $50.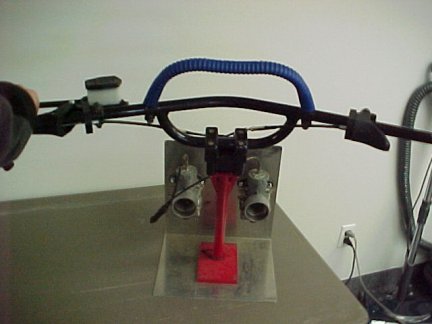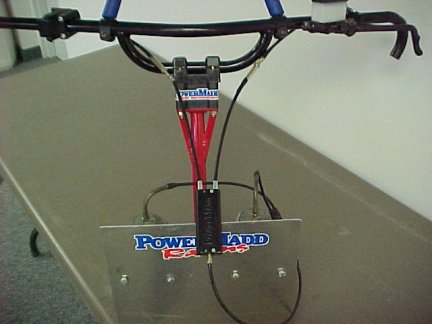 Here's a later picture of the product from their web site. Also I found Outdoor Supply on line carries them. Either do a search for "left" or click on their index for "controls", then "all controls" and scroll down. Also, Power Sports carries them as well.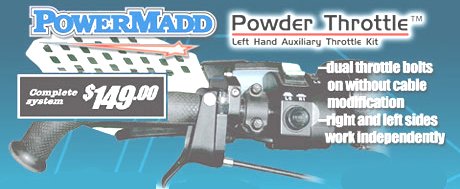 This one is by the "lefty" brand. He's at (208) 255-5644 or (866) 465-3389, 1305 Highway 2, West Sandpoint, ID, 83864. It's for $225. It's heard they are high quality. They apparently no longer have a web site.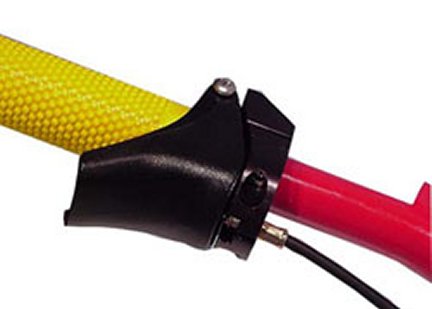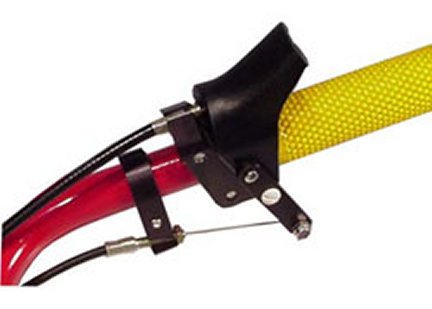 On the left is by Kinetic, at 1212 N. Fancher, Spokane, WA 99212, Phone:(509) 534-8722. Sells for about $120. Here's their Web site . On the right is one I found being sold at Roundy's Kawasaki and SkiDoo in Spokane for $80. They are at N. 8029 Division, (509) 467-5128, ask for Mark Dursin.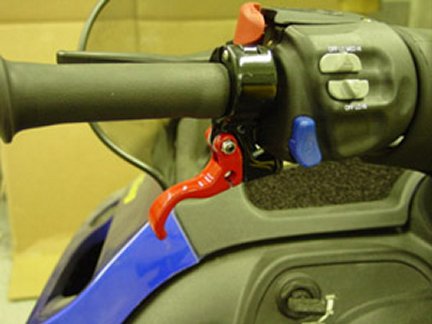 This one in particularly the author likes and would'nt you know it, they might be out of buisness, since their number is disconnected. Clean and has flippers on both sides. The address will be left up for a while in the event you come across them and can past on the information to this site. Extreme Sports manufacturing at 40 Six Bar E Rd, P.O. Box 153, Centennial, WY, 82055, (307) 742-1113.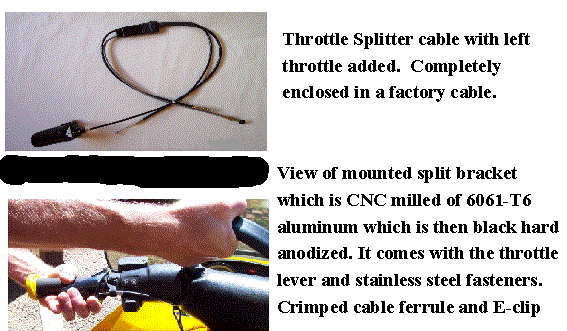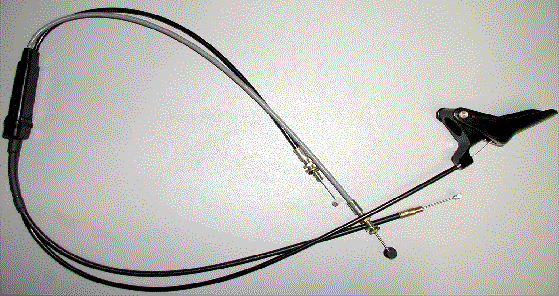 Some more of ESM ones.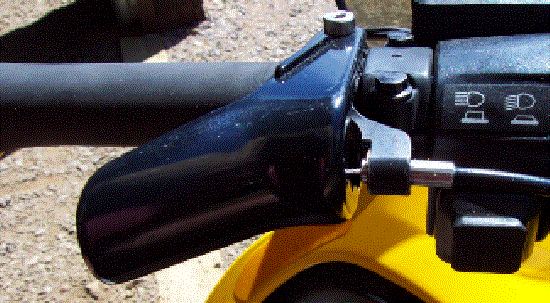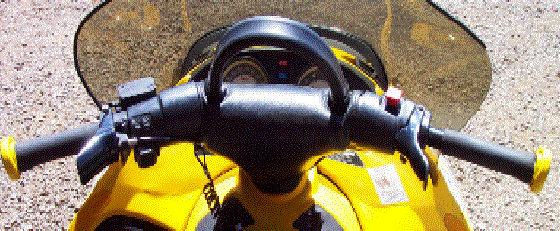 Another one I have not yet called is Dugan Enterprises, in MT, at (406) 227-8705. I have gotten a "word" document and it looks good, too. I assume he didn't want me to post the pictures, since they were embedded in the document, at this time.
Crazy Mountain Motorsports is another one. I have not found any pictures, but their web site lists a CMX Throttle block - aluminum, w/flipper for off side throttle application for $60.00 They are at P.O. Box 162, 312 1st Avenue North, Clyde Park, Montana 59018, Telephone: (406) 686-4921, Fax: 406.686.4222
Fabricraft is another. So far I have NOT seen a left kit on their web site but I'm going to check further. I'm listing them here, because they have a bunch of other cool mountain stuff, and if asked enough they might make one. They are at 417 Wolfville Shop E Florence, MT 59833, Phone: 406-777-1200.
I might mention that Western Power Sports has components, however being wholesale only you have to buy their items through a dealer. They carry one neat aluminum lever block, that should be narrow enough for the Cat's left side handlebar. Their web site has only minimal information on it. They are at 601 East Gowen Rd, Boise, ID, 83717, phone (800) 999-3388.
Howard Motorsports, 41080 Marina Drive, Loon Lake, WA, 99148, at (509) 999-3786. The author visited them and talked with Larry Ferell, who is very knowledgeable about all the details on a lefty project. His number is (509) 233-2303. They were sell for around $90, but you might check with them to see if they are still doing it. Here's the right side. Notice the thicker aluminum adaptor plate, and the little cable stop nut, with the allen head screw. His left side is the conventional BMX type lever. He's still working on that cool narrow bracket for the left. This would be great for the Mountain Cats. They apparently no longer have a web site. As of 2006 no improvements are noticed.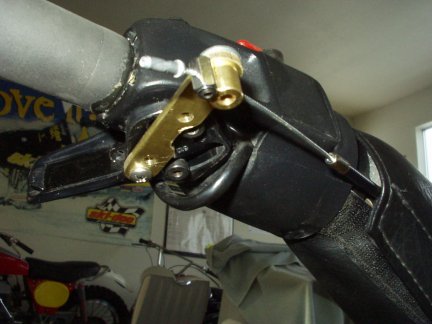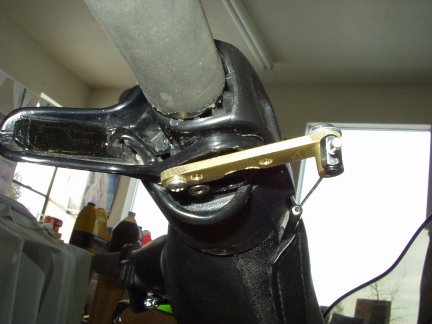 I just came across another source of Big Sky Cyclery in Helena MT, phone: (406) 442-4644 for $30, lever and cable...you build your own alum bracket that you rivet to the thumb throttle. You do not need to remove the grip to install.
Just found another: SMW for $65, (406) 670 8706 in Mt.
And...here's another. It's from Snowy Mountain Wintersports, at 13350 Hidden Valley Trail, Molt, Mt 59057. Their numbers are: (406) 788-7491, 669-3873 or 670-8706. They specify a universal fit and price is $65.00 shipped. Here's a sample that's off their web site. By the way you need to been running I.E. version 5 or later to get there. My Netscape browser didn't work, but it might be something I don't set up right at my end. They have some other goodies as well.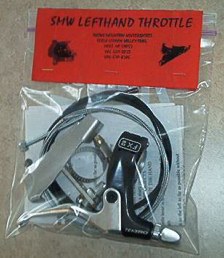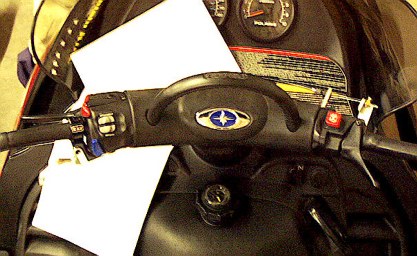 Another Spokane source is Full Throttle, Inc, at P.O. Box 398. Verdale, WA, 99037 or call (509) 921-0460, Fax: (509) 892-0609, or Email: sales@fullthrottleinc.com or vist their site.
That's the extent of my research. Please note the safety issues explained above, and if you have a lead on any other brand, please contact me so I can post it. If any of the information is in correct please let me know, so I can act on it.
And....please, please if any of you owners of these companies do not want your stuff listed here, I'll take it off; just let me know. I'm hoping to help out everyone to what is out there so each person can make their own right choices the first time around. Win-all scenario. Actually, this left feature has really caught on this season, seeing all the makers pop up on the web just in the last few months.
DISCLAMER: Since this is a non standard throttle arrangement the reader assumes all responsibility on any causes of damage, injury or death, due to improper operation of one's snowmobile as actions caused by this installation of this "lefty" throttle.