Directions for Roman Nose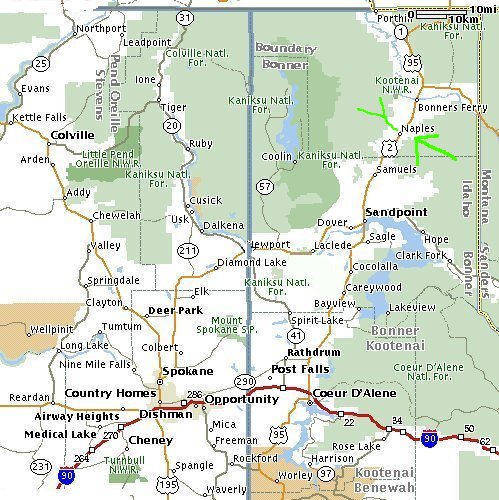 Roman Nose is North of Sandpoint, Idaho. It has several play areas, lakes (usually frozen) and a variety of different terrains, which include trails, off trail hill climbing and lots of boondocking. The lakes are fun for racing and (after a dump) carving in the snow. There is moderate Av danger on the bowls, so please make an assessments prior to riding in those areas. It's about the most popular area the local groups go to. Being in the Selkirk Mountains, Roman Nose peak stands at 7,200 feet. The Sundance forest fire of 1967 left a wide area open that today offer challenges for every riding ability.
There are about four access points. The most Southern is Pack River (And Jeru Peak). From Sandpoint you drive North on hyway 2. At Samuels, around MP 486 there's a gas station on your left. Turn left onto Upper Pack River Road. The mileage up this road is not availible, at this time, but It's beleived about 5 to the unloading parking lot. From there two trails take you up. Sometimes the "southern" trail is taken up for logging operations, so you will need to take the "northern" trail to get to the other trails. Violations on the wrong logging road are enforced, at times, especially in the spring and fall.
The next way is Falls Creek. The turnoff is in the 45 mile zone, after the bridge, turn left (West) onto McArther Lake road. Go half a mile to the "Y" and stay right. Go another 5 3/10 mile ( to an intersection and turn left onto Highland Flats road. Go one mile to the parking lot. The trail is right in that area. There's a couple restrooms there, too. As a note, another way to get there is a little further North on Hyway 2 turn left onto Highland Flats road. When you get to the intersection (just discribe) just stay straight to get to the parking lot.
The middle area is Ruby Creek. Continuing North on Hyway 2, at MP 496.8 you turnoff left, go 1/2 mile to Naples store. Being a old county type "has everything" store (old wooden floors, etc), including gasoline and lots of goodies to eat for the trip. From the store go North eight tenths of a mile to a sign that says "6". Turn left here and go a few miles to the "6" street intersection.. From here, you have two choices for two areas; either take a right to go to "Ruby Creek" unloading area, or just stay straight to the "warming hut" with a large double parking area. The roads colored in green are the paths.
The most Northern access is Snow Creek. From the Naples store go pass the "6" turnoff and head towards Deep Creek. The map below continues with this route.
From the other map, you'll see you pass through Deep Creek; continue North. The mileage from the Naples store to West Side road is 6 miles. The two routes (either from Naples or Bonners) is in green. So, turn left (West) onto West Side road. Go 2 miles (you'll pass some tracks and small bridges,) to a "Y" type intersection. There are some little signs and information about the area, here. Sometimes there's a barricade blocking only part of the dirt road, which is the "normal" winter access. It's imagined in a real heavy winter this would be as for as you would want to go to unload. Normally, it's plowed so you can to continue from this "Y" staying left, uphill.





So, from this point,
go 3 miles to another "Y" and stay straight, uphill.
Go another 2.5 miles and stay straight.
Go another 2 miles and stay straight.
Go another .8 mile and stay straight.
Go another .7 mile and stay straight.
If you get this far (spring/summer only) would be at the 9 mile marker. In the winter you won't drive far, maybe just the first 3 miles from the first "Y". In the winter there's limited trail grooming on Snow Creek. On a good day it's smooth.
Another way is from Bonners Ferry; Go South on Hyway 2, about 1 mile, to the golf course at MP 504, and turn West onto Snow Creek Road. Go 3 miles and turn onto West side road. From here follow the directions just previously describe, above. As you can see the map green paths show both these ways.
---
Also, some info about nearby area(s):
About 13 miles northeast of Bonners Ferry, in the Canuck Basin area are the beautiful Purcell Mountains, where grand vistas of Canada and Montana can be seen from the high ridges. The best time to snowmobile on Copper Trail is from November to April; access is by the Deer Creek Road or by Copper Creek Campground near Eastport.
Another local favorite is the Smith Creek/Cow Creek area in the northern part of the county. Travel north of Bonners Ferry to Highway 1, and turn west at Copeland. Cross the Kootenai River and follow the Westside Road north to the Smith Creek Road. The Smith, Cow and Grass Creek drainage have wide open bowls and high running ridges.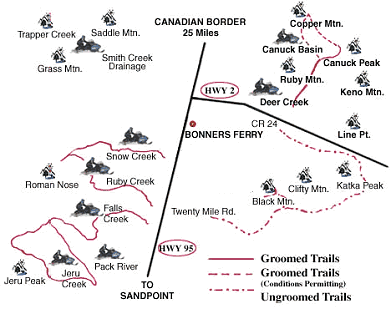 Here's a sled version map of the areas in NorthEastern Idaho, including Roman Nose.
If we meet in Sandpoint around 8am, it's usually just North of the Bonner mall area at the Conoco Gas station, with Wahl Mart across the street. You can gas up and get some lunch goodies there. An alternative meeting place is at the Bonner Mall, with many stories, including the Yoke's Pac 'N Save store, McDonald's and a tire store. here's Yoke's address:
Yoke's Pac'n Save Foods Inc
212 Bonner Mall Way
Sandpoint, ID
(208) 263-4613


Here's a map of the city of Sandpoint with green arrow at the Bonner Mall area. We usually decide on a 2-way radio channel to contact on, should we get separated in the general mall area.







---