Directions for Lincoln
Near the town on Lincoln, Montana is Copper Creek. Real wild steep hills to climb. There's some local Motels to stay at. Be prepared for food, since most of the places do not open early, should you be there on a Sunday. There are believed to be two gas stations in town a Conoco and Exxon. The former has a deli and gas and diesel.
From Missoula, Montana, take I-90 to the Bonner exit just east of Missoula, this is also the exit for Highway 200 East. Stay on hyway 200 for about 87 miles and you will be in Lincoln. To head to the sled area go East on 200. Along the way the hyway has just a few gradual turns. When you get near the turnoff, you will have a 3/4 mile long, open straight away and then two fairly sharp turns with guard rail and the river to your right. Cross the bridge and take the next left, which is about 6 1/2 miles East of Lincoln, around mile post 78. It is about 100 yards after the bridge. This is Copper Creek road. The parking lot is about 1 1/2 mile from the turnoff. (blue arrow).
Here's the general map town of Lincoln.
Here's possibly the parking for unloading the sleds (a little ways North of the hyway).
Here's the trail map; our play area is on the upper right area.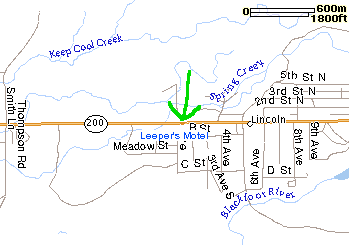 One Motel to stay at is:
Leeper's Motel
Highway 200 & First Ave
Lincoln, MT
406-362-4333

---