Directions for Fernan, ID
Fernan is mostly trails and a popular area for the locals. The Author was there once and only road the many trails. Very boaring. Perfect for a family outing. There's usuall a spagettii feed as well at the end of the trails at a cabin. The owner's phone is (208) 773-3469 if you wanted to find out. For road directions just follow the signs at the exit (directions, below).
Here's more pictures that might help. They should the general area: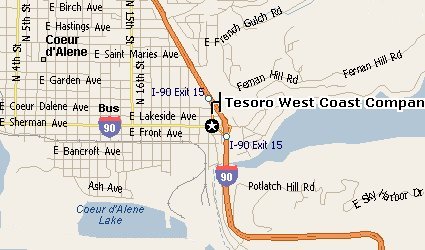 Riders typically meet in the morning in Cour 'D Alene at Tesoro Gas Station and deli at the East end of Cour 'D Alene, Idaho. There are several Cour 'D Alene exits. The last two East exits (going East) are a little confusing at first. The first one says "15th street" (exit 14, I think) and the last one says "Sherman/Fernan" which is exit 15. Take this last one (exit 15). The hyway sign "food, gas", etc. will be obvious for that exit. Go down to the light; the station will be there. This is also the way to Fernan. This map might help.
Their address is;
Tesoro 2-Go #62133
E. 2301 Sherman
Coeur 'D Alene, ID, 83814
(208) 667-0538