Directions for Dobson Pass, ID
Quick Directions (if you're in a hurry) - North of Wallace, Idaho
Dobson Pass is a county road, that starts in Wallace, Shoneshone County, Idaho. It's the area, just before Burk. From I-90, Eastbound take of exit 61, which is the west end of Wallace. At the bottom of the off ramp and stop sign take a right, down to the next stop sign. Take a left (by the Conoco gas station) and go a few blocks, into Wallace. As the street swings around to the right go about a 1/4 block and turn left onto Pines street. Go a block and take a left onto Sixth street. Stay on this street which goes under the I-90 over pass, through a couple communities to around another mile or two. The road will curve around to the left and start uphill. Go around another 2-3 miles to the summit. There's a limited amount of parking on both side of the road, say would handle 6-8 vehicles comfortably. On the East side of the road is a trail to the play areas, which heads south. The other trail to the East is unknown at this time of printing. It's a pretty nice area; just be careful that some of the trails drift in. This was observed by the Author in February of 2007. Breaking trail was a major challenge, however, once performed there's a nice open area to play with. If you find the correct trail(s) you can get over to the Burk area as well. It's unknown if licenses are enforced.
More maps for better detail. Routes and sites are marked with green lines arrows on the large version of these picture. To obtain this, click on the picture you are interested in.
Here's a map of the overall area, including the adjacent riding area of Burke.
If these maps do not print correctly on your printer, you are welcome to email or call the Author, Karl, and see what can be done.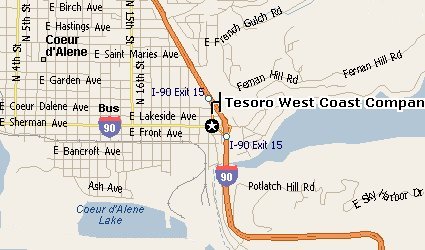 Riders typically meet in the morning in Cour' D Alene at Tesoro Gas Station and deli at the East end of Cour 'D Alene, Idaho. There are several Cour 'D Alene exits. The last two East exits (going East) are a little confusing at first. The first one says "15th street" (exit 14, I think) and the last one says "Sherman/Fernan" which is exit 15. Take this last one (exit 15). The hyway sign "food, gas", etc. will be obvious for that exit. Go down to the light; the gas station will be there. Also this street is the way to Fernan, which is a nice trail riding area, but that's about it. This map might help.
Their address is;
Tesoro 2-Go #62133
E. 2301 Sherman
Coeur 'D Alene, ID, 83814
(208) 667-0538