Motorola Mitrek Production by AK2O
---
Here's a sample of some of the production work on these Mitrek Radios for version B. The project is a set of 4, for the VHF club, here, in Spokane, for our Packet project of two separate "stacks" in the Spokane area. As of printing of this document a 5th radio is planned for the club's BBS radio.
Here's the panels (front and back) after being cut, painted, holes drilled and most of the control mounted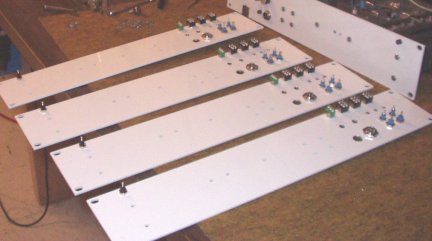 On the right are the radios lined up for assembly to the panels. Then they are to be (custom) wired, and all the documentation (include this page your are reading) is to be complete during the other work.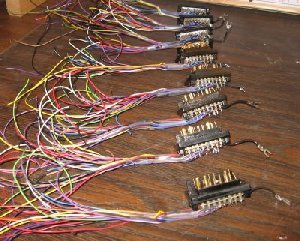 More on general building proceedures.



---
---
This may be copied in complete form only for non-profit purposes, such as for the knowledge for the Amateur Radio Service, with AK2O credited as designer. Other arrangements please contact the author.

Copywrite: AK2O 2/20/2005

Back to the SRG tech page