Colors, by Karl Shoemaker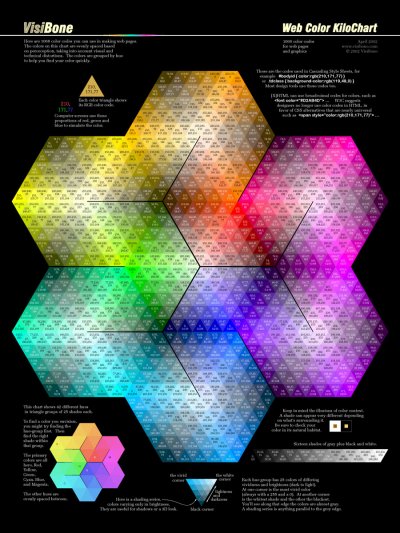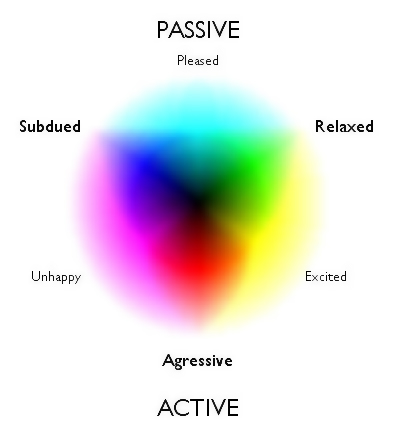 Color management starts with three basis colors, known as "primary colors". Mixing the primary colors can result several million combinations of colors known. Before this is discussed further there's one other primary (no pun intended) item to remember; There are two types of primary colors and the resultant of mixing them:
Positive
Negative

Positive is generation of color (light) from an electrical device, such as a cathode-ray tube used in TVs or PC monitors, where the three primary colors, Red, Green and Blue are generated, hence, the early monitors where called "R G B". Mixing them generators many other colors. For example, generation of Red and Green, make Yellow.

Negative is the reflection/absorption of color (light) from a filter receiving white light where the three primary colors are Red Yellow and Blue. (note the substitution of the Yellow and Green). For example, filter of Red and Yellow make Green. This normally is done with no electronic or technical processes, such as with paint, you see on a side of a house, a painting or any marker, pen on paper. Other processes can include a lens filter on a camera.

For the following chart we will be discussing positive colors. For PC/monitor generation there is a hex figure equivalent. This is important for web site's html documents to "instruct" your PC on what colors to display. It's also used to display all pictures, commonly in jpg or gif format.
Hexadecimal Color Codes
This page demonstrates the six-digit hexadecimal representation of color of the form #RRGGBB, where RR, GG, and BB are the hexadecimal values for the red, green, and blue values of the color. Using a hexadecimal code is the most reliable of the several ways you can define colors in HTML or style sheets.
| | | | | | |
| --- | --- | --- | --- | --- | --- |
| black(Safe 16 SVG Hex3) #000000 | | midnightblue(Safe Hex3) #000033 | | navy(16 SVG) #000080 | |
| darkblue(SVG) #00008B | | newmidnightblue #00009C | | mediumblue(SVG) #0000CD | |
| blue2(Hex3) #0000EE | | blue(Safe 16 SVG Hex3) #0000FF | | pinegreen(Safe Hex3) #003300 | |
| cichlid #003EFF | | sign blue #003F87 | | dumpster #004F00 | |
| celtics #00611C | | darkgreen(SVG) #006400 | | starbucks(Safe Hex3) #006633 | |
| deepskyblue4 #00688B | | sign green #006B54 | | slateblue #007FFF | |
| green(16 SVG) #008000 | | teal(16 SVG) #008080 | | turquoise4 #00868B | |
| green4 #008B00 | | springgreen4 #008B45 | | darkcyan(SVG) #008B8B | |
| irish flag(Safe Hex3) #009900 | | skyblue5(Safe Hex3) #0099CC | | deepskyblue3 #009ACD | |
| truegreen #00AF33 | | deepskyblue2 #00B2EE | | deepskyblue(SVG) #00BFFF | |
| turquoise3 #00C5CD | | turquoiseblue #00C78C | | emeraldgreen #00C957 | |
| green3 #00CD00 | | springgreen3 #00CD66 | | cyan3 #00CDCD | |
| darkturquoise(SVG) #00CED1 | | turquoise2 #00E5EE | | green2(Hex3) #00EE00 | |
| springgreen2 #00EE76 | | cyan2(Hex3) #00EEEE | | turquoise1 #00F5FF | |
| mediumspringgreen(SVG) #00FA9A | | lime(Safe 16 SVG Hex3) #00FF00 | | springgreen(Safe Hex3) #00FF33 | |
| neonavocado(Safe Hex3) #00FF66 | | springgreen(SVG) #00FF7F | | seagreen(Hex3) #00FFAA | |
| light teal(Safe Hex3) #00FFCC | | aqua(Safe 16 SVG Hex3) #00FFFF | | cyan(Safe 16=aqua SVG Hex3) #00FFFF | |
| ty nant #0147FA | | topaz #0198E1 | | mouthwash #01C5BB | |
| picasso blue #0276FD | | gray1 #030303 | | manganeseblue #03A89E | |
| gray2 #050505 | | cerulean #05B8CC | | indiglo #05E9FF | |
| teal LED #05EDFF | | sea green #068481 | | gray3 #080808 | |
| gray4 #0A0A0A | | permanentgreen #0AC92B | | police strobe #0BB5FF | |
| gray5 #0D0D0D | | banker's lamp #0E8C3A | | diamond blue #0EBFE9 | |
| gray6 #0F0F0F | | turquoise #0FDDAF | | dodgerblue4 #104E8B | |
| malachite #108070 | | ultramarine #120A8F | | gray7 #121212 | |
| garden hose #138F6A | | gray8 #141414 | | ulysses butterfly #1464F4 | |
| gray9 #171717 | | masters jacket #174038 | | dodgerblue3 #1874CD | |
| midnightblue(SVG) #191970 | | gray10 #1A1A1A | | alaska sky #1B3F8B | |
| 6 ball #1B6453 | | gray11 #1C1C1C | | dodgerblue2 #1C86EE | |
| peafowl #1D7CF2 | | bottle green #1DA237 | | dodgerblue(SVG) #1E90FF | |
| gray12 #1F1F1F | | lightseagreen(SVG) #20B2AA | | emerald city #20BF9F | |
| gray13 #212121 | | packer green #213D30 | | huntergreen #215E21 | |
| indigo2 #218868 | | delft #22316C | | forestgreen(SVG) #228B22 | |
| navyblue #23238E | | steelblue #236B8E | | seagreen #238E68 | |
| gray14 #242424 | | gray15 #262626 | | blue spider #26466D | |
| royalblue4 #27408B | | pabst blue #283A90 | | cooler #284942 | |
| emeraldgreen2 #28AE7B | | ivoryblack #292421 | | gray16 #292929 | |
| atlantic green #2A8E82 | | gray17 #2B2B2B | | blue angels #2B4F81 | |
| st louis blues #2C5197 | | cucumber #2C5D3F | | indigo #2E0854 | |
| gray18 #2E2E2E | | stained glass #2E37FE | | lampblack #2E473B | |
| park bench #2E6444 | | seagreen(SVG) #2E8B57 | | midnightblue #2F2F4F | |
| darkgreen #2F4F2F | | darkslategray(SVG) #2F4F4F | | darkslategrey(SVG) #2F4F4F | |
| aquarium #2FAA96 | | presidential blue #302B54 | | gray19 #303030 | |
| mailbox #3063A5 | | sapgreen #308014 | | pool table #31B94D | |
| mediumblue #3232CC | | mediumblue #3232CD | | limerind #324F17 | |
| liz eyes #325C74 | | green line #329555 | | skyblue6 #3299CC | |
| mediumaquamarine2 #32CC99 | | limegreen(SVG) #32CD32 | | mediumaquamarine3 #32CD99 | |
| darkcherryred(Safe Hex3) #330000 | | cornflower(Safe Hex3) #3300FF | | gray20(Safe Hex3) #333333 | |
| royalblue(Safe Hex3) #3333FF | | old money #337147 | | peacock #33A1C9 | |
| blue line #33A1DE | | parrotgreen(Safe Hex3) #33FF33 | | blue corn #344152 | |
| octopus #34925E | | army uniform #353F3E | | pacific blue #35586C | |
| parrot #3579DC | | gray21 #363636 | | steelblue4 #36648B | |
| pacific green #36DBCA | | aquaman #37BC61 | | metallic mint #37FDFC | |
| blue deep #380474 | | gray22 #383838 | | terreverte #385E0F | |
| sgiteal #388E8E | | summersky #38B0DE | | green pepper #397D02 | |
| nypd blue #39B7CD | | blue train #3A5894 | | royalblue3 #3A5FCD | |
| circuit board #3A6629 | | big blue bus #3A66A7 | | dress blue #3B3178 | |
| gray23 #3B3B3B | | blue grapes #3B4990 | | romaine lettuce #3B5323 | |
| olive3b #3B5E2B | | greek roof #3B6AA0 | | blue green algae #3B8471 | |
| mediumseagreen(SVG) #3CB371 | | gray24 #3D3D3D | | wet moss #3D5229 | |
| cobalt #3D59AB | | obsidian #3D5B43 | | green lantern #3D8B37 | |
| cobaltgreen #3D9140 | | green party #3E6B4F | | mediterranean #3E766D | |
| green gables #3E766D | | ooze #3E7A5E | | clover #3EA055 | |
| | | | | | |
| --- | --- | --- | --- | --- | --- |
| douglas fir #3F602B | | green taxi #3F9E4D | | gray25 #404040 | |
| shamrock #40664D | | turquoise(SVG) #40E0D0 | | royalblue(SVG) #4169E1 | |
| gray26 #424242 | | cornflowerblue #42426F | | blue jeans #42526C | |
| isle royale greenstone #426352 | | blue whale #42647F | | mediumseagreen #426F42 | |
| caribbean #42C0FB | | spinach #435D36 | | royalblue2 #436EEE | |
| denim #4372AA | | seagreen3 #43CD80 | | go #43D58C | |
| gray27 #454545 | | green agate #457371 | | chartreuse4 #458B00 | |
| aquamarine4 #458B74 | | natural turquoise #45C3B8 | | od green #46523C | |
| steelblue(SVG) #4682B4 | | slateblue4 #473C8B | | gray28 #474747 | |
| noble fir #476A34 | | darkslateblue(SVG) #483D8B | | park ranger #484D46 | |
| scotland pound #487153 | | royalblue1 #4876FF | | holly #488214 | |
| mediumturquoise(SVG) #48D1CC | | blue bird #4973AB | | blue ridge mtns #4981CE | |
| blue bucket #499DF5 | | Nerf green #49E20E | | electric turquoise #49E9BD | |
| gray29 #4A4A4A | | kakapo #4A7023 | | skyblue4 #4A708B | |
| darkgreencopper #4A766E | | fenway monster #4A777A | | wales #4AC948 | |
| indigo(SVG) #4B0082 | | green M&M #4BB74C | | bluegrass #4C7064 | |
| blue lagoon #4CB7A5 | | kelly #4CBB17 | | gray30 #4D4D4D | |
| neonblue #4D4DFF | | fraser fir #4D6B50 | | pollock blue #4D6FAC | |
| lake ontario #4D71A3 | | green visor #4D7865 | | grass #4DBD33 | |
| aquamarine #4E78A0 | | seagreen2 #4EEE94 | | violet #4F2F4F | |
| darkolivegreen #4F4F2F | | gray31 #4F4F4F | | green scrubs #4F8E83 | |
| steelblue3 #4F94CD | | lake superior #506987 | | blue stone #50729F | |
| LCD dark #507786 | | #50A6C2 | | malta blue #517693 | |
| blue pill #5190ED | | gray32 #525252 | | blue dog #525C65 | |
| fenway grass #526F35 | | greencopper #527F76 | | darkslategray4 #528B8B | |
| cadetblue4 #53868B | | carolina blue #539DC2 | | grape #543948 | |
| palegreen4 #548B54 | | seagreen1 #54FF9F | | burntsienna #551011 | |
| deeppurple #551033 | | purple4 #551A8B | | gray33(Hex3) #555555 | |
| darkolivegreen(SVG) #556B2F | | leaf #55AE3A | | forestgreen2 #567E3A | |
| gray34 #575757 | | blue corn chips #584E56 | | broccoli #586949 | |
| gray35 #595959 | | richblue #5959AB | | snake #596C56 | |
| green bark #597368 | | chemical suit #5993E5 | | lizard #5A6351 | |
| curacao #5B59BA | | natural gas #5B90F6 | | emerald #5B9C64 | |
| ultramarineviolet #5C246E | | bakerschocolate #5C3317 | | verydarkbrown #5C4033 | |
| gray36 #5C5C5C | | steelblue2 #5CACEE | | mediumpurple4 #5D478B | |
| lake huron #5D7B93 | | greenstamp #5D9160 | | blue sponge #5D92B1 | |
| green LED #5DFC0A | | vandykebrown #5E2605 | | sepia #5E2612 | |
| gray37 #5E5E5E | | fresh green #5EDA9E | | tea leaves #5F755E | |
| cadetblue(SVG) #5F9EA0 | | cadetblue #5F9F9F | | sign brown #603311 | |
| lightskyblue4 #607B8B | | fisherman's float #607C6E | | palm #608341 | |
| la maison bleue #60AFFE | | tank #615E3F | | gray38 #616161 | |
| lake erie #6183A6 | | cinnabargreen #61B329 | | green apple #629632 | |
| tropical blue #62B1F6 | | gray39 #636363 | | cactus #636F57 | |
| green algae #63AB62 | | steelblue1 #63B8FF | | surf #63D1F4 | |
| seaweed #646F5E | | cornflowerblue(SVG) #6495ED | | lindsay eyes #65909A | |
| tree moss #659D32 | | bloodred(Safe Hex3) #660000 | | blue safe(Safe Hex3) #6600FF | |
| concord grape #660198 | | gray40(Safe Hex3) #666666 | | cobalt(Safe Hex3) #6666FF | |
| chromeoxidegreen #668014 | | paleturquoise4 #668B8B | | green ash #668E86 | |
| aqua(Safe Hex3) #66CCCC | | chartreuse3 #66CD00 | | mediumaquamarine(SVG) #66CDAA | |
| wasabi(Safe Hex3) #66FF66 | | neon blue #67C8FF | | swimming pool #67E6EC | |
| darkorchid4 #68228B | | sea urchin #683A5E | | blue tuna #687C97 | |
| pond scum #687E5A | | lightblue4 #68838B | | england pound #688571 | |
| maroon5 #691F01 | | purple rain #694489 | | slateblue3 #6959CD | |
| dimgrey(SVG) #696969 | | dimgray(SVG) #696969 | | olivedrab4 #698B22 | |
| darkseagreen4 #698B69 | | blue shark #6996AD | | putting #699864 | |
| slateblue(SVG) #6A5ACD | | green hornet #6A8455 | | darkslateblue #6B238E | |
| semisweet chocolate1 #6B4226 | | gray42 #6B6B6B | | olivedrab(SVG) #6B8E23 | |
| slategray4 #6C7B8B | | skyblue3 #6CA6CD | | neptune #6D9BF1 | |
| gray43 #6E6E6E | | lightsteelblue4 #6E7B8B | | darkolivegreen4 #6E8B3D | |
| viridianlight #6EFF70 | | salmon5 #6F4242 | | dolphin #6F7285 | |
| gray44 #707070 | | slategrey(SVG) #708090 | | slategray(SVG) #708090 | |
| darkturquoise #7093DB | | aquamarine #70DB93 | | mediumturquoise #70DBDB | |
| garden plum #71637D | | sgislate blue #7171C6 | | sgichartreuse #71C671 | |
| indigo tile #72587F | | deepochre #733D1A | | rawumber #734A12 | |
| | | | | | |
| --- | --- | --- | --- | --- | --- |
| gray45 #737373 | | seurat blue #739AC5 | | old copper #73B1B7 | |
| seaweed roll #748269 | | blue ice #74BBFB | | lavender field #754C78 | |
| gray46 #757575 | | blue fern #759B84 | | blueberry #75A1D0 | |
| chartreuse2 #76EE00 | | aquamarine2 #76EEC6 | | ganegreen(Hex3) #777733 | |
| lightslategray(SVG Hex3) #778899 | | lightslategrey(SVG Hex3) #778899 | | green goo #77896C | |
| gray47 #787878 | | pumice #78A489 | | pea #78AB46 | |
| pea #79973F | | Coke bottle #79A888 | | darkslategray3 #79CDCD | |
| mediumorchid4 #7A378B | | slateblue2 #7A67EE | | gray48 #7A7A7A | |
| lightcyan4 #7A8B8B | | cat eye #7AA9DD | | cadetblue3 #7AC5CD | |
| cinnamon #7B3F00 | | mediumslateblue(SVG) #7B68EE | | green moth #7BBF6A | |
| night vision #7BCC70 | | palegreen3 #7CCD7C | | lawngreen(SVG) #7CFC00 | |
| purple3 #7D26CD | | gray49 #7D7D7D | | blue nile #7D7F94 | |
| sgilightblue #7D9EC0 | | forget me nots #7EB6FF | | skyblue2 #7EC0EE | |
| mediumslateblue2 #7F00FF | | gray50 #7F7F7F | | flight jacket #7F8778 | |
| kiwi #7F9A65 | | chartreuse(SVG) #7FFF00 | | aquamarine(SVG) #7FFFD4 | |
| maroon(16 SVG) #800000 | | purple(16 SVG) #800080 | | brown #802A2A | |
| olive(16 SVG) #808000 | | warmgrey #808069 | | grey(16 SVG) #808080 | |
| gray(16 SVG) #808080 | | coldgrey #808A87 | | eggplant #816687 | |
| wild violet #820BBB | | gray51 #828282 | | blue mist #82CFFD | |
| slateblue1 #836FFF | | honeydew4 #838B83 | | azure4 #838B8B | |
| nikko blue #838EDE | | neon green #83F52C | | lightslateblue #8470FF | |
| frog #84BE6A | | darkwood #855E42 | | dustyrose #856363 | |
| gray52 #858585 | | plum pudding #862A51 | | 100 euro #86C67C | |
| darkpurple #871F78 | | raspberry #872657 | | brownochre #87421F | |
| gray53 #878787 | | skyblue(SVG) #87CEEB | | lightskyblue(SVG) #87CEFA | |
| skyblue1 #87CEFF | | blue cow #88ACE0 | | mediumpurple3 #8968CD | |
| blueviolet(SVG) #8A2BE2 | | burntumber #8A3324 | | burntsienna #8A360F | |
| gray54 #8A8A8A | | green quartz #8AA37B | | darkred(SVG) #8B0000 | |
| darkmagenta(SVG) #8B008B | | deeppink4 #8B0A50 | | firebrick4 #8B1A1A | |
| maroon4 #8B1C62 | | violetred4 #8B2252 | | brown4 #8B2323 | |
| orangered4 #8B2500 | | tomato4 #8B3626 | | indianred4 #8B3A3A | |
| hotpink4 #8B3A62 | | coral4 #8B3E2F | | darkorange4 #8B4500 | |
| saddlebrown(SVG) #8B4513 | | sienna4 #8B4726 | | palevioletred4 #8B475D | |
| orchid4 #8B4789 | | salmon4 #8B4C39 | | lightsalmon4 #8B5742 | |
| orange4 #8B5A00 | | tan4 #8B5A2B | | lightpink4 #8B5F65 | |
| pink4 #8B636C | | darkgoldenrod4 #8B6508 | | plum4 #8B668B | |
| goldenrod4 #8B6914 | | rosybrown4 #8B6969 | | burlywood4 #8B7355 | |
| gold4 #8B7500 | | peachpuff4 #8B7765 | | navajowhite4 #8B795E | |
| thistle4 #8B7B8B | | bisque4 #8B7D6B | | mistyrose4 #8B7D7B | |
| wheat4 #8B7E66 | | light goldenrod4 #8B814C | | antiquewhite4 #8B8378 | |
| lavenderblush4 #8B8386 | | khaki4 #8B864E | | seashell4 #8B8682 | |
| cornsilk4 #8B8878 | | lemonchiffon4 #8B8970 | | snow4 #8B8989 | |
| yellow4 #8B8B00 | | lightyellow4 #8B8B7A | | ivory4 #8B8B83 | |
| martini olive #8BA446 | | soylent green #8BA870 | | scarlet #8C1717 | |
| bronze #8C7853 | | gray55 #8C8C8C | | green soap #8CDD81 | |
| lightskyblue3 #8DB6CD | | darkslategray2 #8DEEEE | | firebrick5 #8E2323 | |
| maroon6 #8E236B | | sgibeet #8E388E | | sienna #8E6B23 | |
| sgiolivedrab #8E8E38 | | cadetblue2 #8EE5EE | | violet #8F5E99 | |
| gray56 #8F8F8F | | lightsteelblue #8F8FBC | | green cheese #8FA880 | |
| darkseagreen(SVG) #8FBC8F | | lightblue #8FD8D8 | | lightgreen(SVG) #90EE90 | |
| cool mint #90FEFB | | cobaltvioletdeep #91219E | | purple2 #912CEE | |
| gray57 #919191 | | LCD back #91B49C | | pastel green #92CCA6 | |
| mediumpurple(SVG) #9370DB | | greenyellow #93DB70 | | darkviolet(SVG) #9400D3 | |
| gray58 #949494 | | marsorange #964514 | | gray59 #969696 | |
| eton blue#96C8A2 | | paleturquoise3 #96CDCD | | darktan #97694F | |
| darkslategray1 #97FFFF | | avocado #98A148 | | cadetblue1 #98F5FF | |
| palegreen(SVG) #98FB98 | | truepurple(Safe Hex3) #990099 | | bordeaux #99182C | |
| darkorchid(SVG) #9932CC | | darkorchid #9932CD | | chocolate(Safe Hex3) #993300 | |
| gray60(Safe Hex3) #999999 | | yellowgreen2 #99CC32 | | wavecrest #99CDC9 | |
| darkorchid3 #9A32CD | | lightblue3 #9AC0CD | | yellowgreen(SVG) #9ACD32 | |
| palegreen1 #9AFF9A | | purple1 #9B30FF | | #9BC4E2 | |
| darkseagreen3 #9BCD9B | | brick #9C661F | | purple ink #9C6B98 | |
| gray61 #9C9C9C | | cantaloupe #9CA998 | | jolly green #9CCB19 | |
| amethyst #9D6B84 | | canvas #9D8851 | | camo3 #9DB68C | |
| | | | | | |
| --- | --- | --- | --- | --- | --- |
| burgundy #9E0508 | | gray62 #9E9E9E | | blueviolet #9F5F9F | |
| mediumpurple2 #9F79EE | | khaki #9F9F5F | | slategray3 #9FB6CD | |
| purple #A020F0 | | sienna(SVG) #A0522D | | gray63 #A1A1A1 | |
| smyrna purple #A2627A | | lightsteelblue3 #A2B5CD | | kermit #A2BC13 | |
| avacado #A2C257 | | sweet potato vine #A2C93A | | darkolivegreen3 #A2CD5A | |
| beige dark #A39480 | | gray64 #A3A3A3 | | 20 pound #A46582 | |
| lightskyblue2 #A4D3EE | | liberty #A4DCD1 | | brown(SVG) #A52A2A | |
| bunny eye #A5435C | | brown #A62A2A | | bronzeii #A67D3D | |
| mediumwood #A68064 | | gray65 #A6A6A6 | | guacamole #A6D785 | |
| turnip #A74CAB | | sandstone #A78D84 | | gray66 #A8A8A8 | |
| darkgray(SVG) #A9A9A9 | | darkgrey(SVG) #A9A9A9 | | aluminum #A9ACB6 | |
| camo2 #A9C9A4 | | purple6(Hex3) #AA00FF | | coffee #AA5303 | |
| cinnamon(Hex3) #AA6600 | | sgilightgray(Hex3) #AAAAAA | | periwinkle(Hex3) #AAAAFF | |
| goldgreen(Hex3) #AADD00 | | mediumpurple1 #AB82FF | | gray67 #ABABAB | |
| organic tea #AC7F24 | | gray68 #ADADAD | | lightblue(SVG) #ADD8E6 | |
| turquoise #ADEAEA | | greenyellow(SVG) #ADFF2F | | wasabi sauce #AEBB51 | |
| paleturquoise2 #AEEEEE | | sign red #AF1E2D | | cola #AF4035 | |
| paleturquoise(SVG) #AFEEEE | | indianred #B0171F | | maroonb0 #B03060 | |
| gray69 #B0B0B0 | | lightsteelblue(SVG) #B0C4DE | | powderblue(SVG) #B0E0E6 | |
| lightskyblue1 #B0E2FF | | kidney bean #B13E0F | | firebrick(SVG) #B22222 | |
| darkorchid2 #B23AEE | | purple fish #B272A6 | | shamrock shake #B2D0B4 | |
| lightblue2 #B2DFEE | | gray70 #B3B3B3 | | key lime pie #B3C95A | |
| olivedrab2 #B3EE3A | | mediumorchid3 #B452CD | | lightcyan3 #B4CDCD | |
| vanilla mint #B4D7BF | | darkseagreen2 #B4EEB4 | | thistle #B5509C | |
| brass #B5A642 | | gray71 #B5B5B5 | | harold's crayon #B62084 | |
| cranberry #B6316C | | titanium #B6AFA9 | | brushed aluminum #B6C5BE | |
| heather blue #B7C3D0 | | new $20 #B7C8B6 | | copper #B87333 | |
| darkgoldenrod(SVG) #B8860B | | gray72 #B8B8B8 | | slategray2 #B9D3EE | |
| mediumorchid(SVG) #BA55D3 | | gray73 #BABABA | | paleturquoise1(Hex3) #BBFFFF | |
| rosybrown(SVG) #BC8F8F | | lightsteelblue2 #BCD2EE | | chartreuse verte #BCE937 | |
| green mist #BCED91 | | darkolivegreen2 #BCEE68 | | darkkhaki(SVG) #BDB76B | |
| gray74 #BDBDBD | | mint green #BDFCC9 | | gray #BEBEBE | |
| cat eye #BEE554 | | darkorchid1 #BF3EFF | | violet flower #BF5FFF | |
| gray75 #BFBFBF | | lightblue1 #BFEFFF | | silver(16 SVG) #C0C0C0 | |
| lichen #C0D9AF | | lightblue #C0D9D9 | | olivedrab1 #C0FF3E | |
| honeydew3 #C1CDC1 | | azure3 #C1CDCD | | pastel blue #C1F0F6 | |
| darkseagreen1 #C1FFC1 | | gray76 #C2C2C2 | | robin's egg #C3E4ED | |
| gray77 #C4C4C4 | | sgibrightgray #C5C1AA | | mint ice cream #C5E3BF | |
| sgisalmon #C67171 | | ash #C6C3B5 | | slategray1 #C6E2FF | |
| mediumvioletred(SVG) #C71585 | | chili powder #C73F17 | | rawsienna #C76114 | |
| goldochre #C77826 | | gray78 #C7C7C7 | | ruby red #C82536 | |
| safety vest #C8F526 | | gray79 #C9C9C9 | | lightsteelblue1 #CAE1FF | |
| darkolivegreen1 #CAFF70 | | fog #CBCAB6 | | grape(Safe Hex3) #CC00FF | |
| bloodorange(Hex3) #CC1100 | | orange #CC3232 | | violetred #CC3299 | |
| apple #CC4E5C | | ochre(Hex3) #CC7722 | | gold5 #CC7F32 | |
| lavender(Safe Hex3) #CC99CC | | ralphyellow(Safe Hex3) #CCCC00 | | gray80(Safe Hex3) #CCCCCC | |
| offwhiteblue(Safe Hex3) #CCCCFF | | offwhitegreen(Safe Hex3) #CCFFCC | | red3 #CD0000 | |
| magenta3 #CD00CD | | deeppink3 #CD1076 | | firebrick3 #CD2626 | |
| maroon3 #CD2990 | | violetred3 #CD3278 | | brown3 #CD3333 | |
| orangered3 #CD3700 | | tomato3 #CD4F39 | | indianred3 #CD5555 | |
| coral3 #CD5B45 | | indianred(SVG) #CD5C5C | | hotpink3 #CD6090 | |
| darkorange3 #CD6600 | | chocolate3 #CD661D | | sienna3 #CD6839 | |
| palevioletred3 #CD6889 | | orchid3 #CD69C9 | | salmon3 #CD7054 | |
| gold6 #CD7F32 | | lightsalmon3 #CD8162 | | orange3 #CD8500 | |
| peru(SVG) #CD853F | | lightpink3 #CD8C95 | | pink3 #CD919E | |
| darkgoldenrod3 #CD950C | | plum3 #CD96CD | | goldenrod3 #CD9B1D | |
| rosybrown3 #CD9B9B | | burlywood3 #CDAA7D | | gold3 #CDAD00 | |
| peachpuff3 #CDAF95 | | navajowhite3 #CDB38B | | thistle3 #CDB5CD | |
| bisque3 #CDB79E | | mistyrose3 #CDB7B5 | | wheat3 #CDBA96 | |
| light goldenrod3 #CDBE70 | | antiquewhite3 #CDC0B0 | | lavenderblush3 #CDC1C5 | |
| seashell3 #CDC5BF | | khaki3 #CDC673 | | cornsilk3 #CDC8B1 | |
| lemonchiffon3 #CDC9A5 | | snow3 #CDC9C9 | | yellow3 #CDCD00 | |
| lightyellow3 #CDCDB4 | | ivory3 #CDCDC1 | | verylightgrey #CDCDCD | |
| fire truck green #CDD704 | | iceberg lettuce #CDE472 | | green grape #CECC15 | |
| | | | | | |
| --- | --- | --- | --- | --- | --- |
| oldgold #CFB53B | | gray81 #CFCFCF | | celery #CFD784 | |
| camo1 #CFDBC5 | | violetred #D02090 | | conch #D0A9AA | |
| battleship #D0D2C4 | | mediumorchid2 #D15FEE | | feldspar #D19275 | |
| gray82 #D1D1D1 | | pear #D1E231 | | lightcyan2 #D1EEEE | |
| chocolate(SVG) #D2691E | | tan(SVG) #D2B48C | | pink glass #D3BECF | |
| lightgray(SVG) #D3D3D3 | | lightgrey(SVG) #D3D3D3 | | venetianred #D41A1F | |
| barney #D4318C | | englishred #D43D1A | | chili #D44942 | |
| gray83 #D4D4D4 | | limepulp #D4ED91 | | gray84 #D6D6D6 | |
| thistle(SVG) #D8BFD8 | | wheat #D8D8BF | | cool copper #D98719 | |
| brightgold #D9D919 | | gray85 #D9D9D9 | | quartz #D9D9F3 | |
| orchid(SVG) #DA70D6 | | goldenrod(SVG) #DAA520 | | blue ice #DAF4F0 | |
| permanent redviolet #DB2645 | | brownmadder #DB2929 | | palevioletred(SVG) #DB7093 | |
| orchid #DB70DB | | tan #DB9370 | | ham #DB9EA6 | |
| goldenrod #DBDB70 | | gray86 #DBDBDB | | moon #DBE6E0 | |
| mint blue #DBFEF8 | | crimson(SVG) #DC143C | | gainsboro(SVG) #DCDCDC | |
| sign orange #DD7500 | | plum(SVG) #DDA0DD | | carnation #DE85B1 | |
| burlywood(SVG) #DEB887 | | gray87 #DEDEDE | | melonrindgreen #DFFFA5 | |
| pink jeep #E0427F | | mediumorchid1 #E066FF | | stainless steel #E0DFDB | |
| gray88 #E0E0E0 | | honeydew2 #E0EEE0 | | azure2 #E0EEEE | |
| lightcyan(SVG) #E0FFFF | | cream city brick #E2DDB5 | | geraniumlake #E31230 | |
| cadmiumreddeep #E3170D | | alizarincrimson #E32636 | | madderlakedeep #E32E30 | |
| rosemadder #E33638 | | hematite #E35152 | | marsyellow #E3701A | |
| yellowochre #E38217 | | melon #E3A869 | | banana #E3CF57 | |
| gray89 #E3E3E3 | | mandarianorange #E47833 | | gray90 #E5E5E5 | |
| semisweet chocolate2 #E6B426 | | lavender(SVG) #E6E6FA | | silver #E6E8FA | |
| tongue #E79EA9 | | espresso #E7C6A5 | | dark wheat #E8C782 | |
| gray91 #E8E8E8 | | chrome #E8F1D4 | | darksalmon(SVG) #E9967A | |
| lightwood #E9C2A6 | | plum2 #EAADEA | | mediumgoldenrod #EAEAAE | |
| cherry #EB5E66 | | newtan #EBC79E | | gray92 #EBEBEB | |
| piglet snout #ECC3BF | | corfu pink #ECC8EC | | carrot #ED9121 | |
| light copper #EDC393 | | gray93 #EDEDED | | red2(Hex3) #EE0000 | |
| magenta2(Hex3) #EE00EE | | deeppink2 #EE1289 | | firebrick2 #EE2C2C | |
| maroon2 #EE30A7 | | violetred2 #EE3A8C | | brown2 #EE3B3B | |
| orangered2 #EE4000 | | tomato2 #EE5C42 | | indianred2 #EE6363 | |
| coral2 #EE6A50 | | hotpink2 #EE6AA7 | | darkorange2 #EE7600 | |
| chocolate2 #EE7621 | | sienna2 #EE7942 | | palevioletred2 #EE799F | |
| orchid2 #EE7AE9 | | salmon2 #EE8262 | | violet(SVG) #EE82EE | |
| tan(Hex3) #EE8833 | | lightsalmon2 #EE9572 | | orange2 #EE9A00 | |
| tan2 #EE9A49 | | lightpink2 #EEA2AD | | pink2 #EEA9B8 | |
| darkgoldenrod2 #EEAD0E | | plum2 #EEAEEE | | goldenrod2 #EEB422 | |
| rosybrown2 #EEB4B4 | | burlywood2 #EEC591 | | gold2 #EEC900 | |
| peachpuff2 #EECBAD | | navajowhite2 #EECFA1 | | thistle2 #EED2EE | |
| bisque2 #EED5B7 | | mistyrose2 #EED5D2 | | beach sand #EED6AF | |
| wheat2 #EED8AE | | lightgoldenrod2 #EEDC82 | | lightgoldenrod #EEDD82 | |
| antiquewhite2 #EEDFCC | | lavenderblush2 #EEE0E5 | | seashell2 #EEE5DE | |
| khaki2 #EEE685 | | palegoldenrod(SVG) #EEE8AA | | cornsilk2 #EEE8CD | |
| lemonchiffon2 #EEE9BF | | snow2 #EEE9E9 | | yellow2(Hex3) #EEEE00 | |
| lightyellow2 #EEEED1 | | ivory2 #EEEEE0 | | lightcoral(SVG) #F08080 | |
| pyridiumorange #F0A804 | | khaki(SVG) #F0E68C | | gray94 #F0F0F0 | |
| aliceblue(SVG) #F0F8FF | | honeydew(SVG) #F0FFF0 | | azure(SVG) #F0FFFF | |
| gray95 #F2F2F2 | | grapefruit #F3E88E | | sandybrown(SVG) #F4A460 | |
| cranberry jello #F54D70 | | wheat(SVG) #F5DEB3 | | beige(SVG) #F5F5DC | |
| whitesmoke(SVG) #F5F5F5 | | mintcream(SVG) #F5FFFA | | dog tongue #F6A4D5 | |
| pink cloud #F6A8B6 | | bermuda sand #F6C9CC | | pink shell #F6CCDA | |
| cotton candy #F7B3DA | | gray97 #F7F7F7 | | ghostwhite(SVG) #F8F8FF | |
| salmon(SVG) #FA8072 | | antiquewhite(SVG) #FAEBD7 | | linen(SVG) #FAF0E6 | |
| lightgoldenrodyellow(SVG) #FAFAD2 | | gray98 #FAFAFA | | apricot #FBA16C | |
| corn #FBEC5D | | packer gold #FCB514 | | sign yellow #FCD116 | |
| bread #FCD59C | | eggshell #FCE6C9 | | gray99 #FCFCFC | |
| titaniumwhite #FCFFF0 | | oldlace(SVG) #FDF5E6 | | zincwhite #FDF8FF | |
| honey #FEE5AC | | desert sand #FEE8D6 | | peach #FEF0DB | |
| buttermilk #FEF1B5 | | red(Safe 16 SVG Hex3) #FF0000 | | bright red(Safe Hex3) #FF0033 | |
| broadwaypink(Safe Hex3) #FF0066 | | orangered #FF007F | | fuchsia2(Hex3) #FF00AA | |
| rose(Safe Hex3) #FF00CC | | magenta(Safe 16=fuchsia SVG Hex3) #FF00FF | | fuchsia(Safe 16 SVG Hex3) #FF00FF | |
| | | | | | |
| --- | --- | --- | --- | --- | --- |
| cadmiumredlight #FF030D | | deeppink(SVG) #FF1493 | | spicypink #FF1CAE | |
| orangered #FF2400 | | firebrick1 #FF3030 | | nectarine(Safe Hex3) #FF3300 | |
| novascotia salmon(Safe Hex3) #FF3333 | | maroon1 #FF34B3 | | greenishumber #FF3D0D | |
| violetred1 #FF3E96 | | brown1 #FF4040 | | orangered(SVG) #FF4500 | |
| safety cone #FF5333 | | fleshochre #FF5721 | | cadmiumorange #FF6103 | |
| tomato(SVG) #FF6347 | | orange(Safe Hex3) #FF6600 | | seattle salmon(Safe Hex3) #FF6666 | |
| hotpink(SVG) #FF69B4 | | indianred1 #FF6A6A | | hotpink1 #FF6EB4 | |
| neonpink #FF6EC7 | | coral1 #FF7256 | | oregon salmon(Hex3) #FF7722 | |
| orange5 #FF7D40 | | darkorange1 #FF7F00 | | chocolate1 #FF7F24 | |
| coral(SVG) #FF7F50 | | orange #FF8000 | | sienna1 #FF8247 | |
| palevioletred1 #FF82AB | | orchid1 #FF83FA | | darkorange5 #FF8600 | |
| darkorange(SVG) #FF8C00 | | salmon1 #FF8C69 | | bubble gum #FF92BB | |
| cadmiumyellow #FF9912 | | peach(Hex3) #FF9955 | | lightsalmon(SVG) #FFA07A | |
| orange(SVG) #FFA500 | | tan1 #FFA54F | | naplesyellowdeep #FFA812 | |
| aureolineyellow #FFA824 | | gold7(Hex3) #FFAA00 | | peachpuff #FFADB9 | |
| lightpink1 #FFAEB9 | | cadmium yellowlight #FFB00F | | pink1 #FFB5C5 | |
| lightpink(SVG) #FFB6C1 | | darkgoldenrod1 #FFB90F | | plum1(Hex3) #FFBBFF | |
| pink(SVG) #FFC0CB | | goldenrod1 #FFC125 | | rosybrown1 #FFC1C1 | |
| cheddar #FFC469 | | mustard(Hex3) #FFCC11 | | sand(Safe Hex3) #FFCC99 | |
| flatpink(Safe Hex3) #FFCCCC | | burlywood1 #FFD39B | | gold(SVG) #FFD700 | |
| peachpuff(SVG) #FFDAB9 | | navajowhite(SVG) #FFDEAD | | thistle1 #FFE1FF | |
| cadmiumlemon #FFE303 | | moccasin(SVG) #FFE4B5 | | bisque(SVG) #FFE4C4 | |
| mistyrose(SVG) #FFE4E1 | | yolk #FFE600 | | wheat1 #FFE7BA | |
| blanchedalmond(SVG) #FFEBCD | | light goldenrod1 #FFEC8B | | papayawhip(SVG) #FFEFD5 | |
| antiquewhite1 #FFEFDB | | lavenderblush(SVG) #FFF0F5 | | seashell(SVG) #FFF5EE | |
| khaki1 #FFF68F | | cornsilk(SVG) #FFF8DC | | lemonchiffon(SVG) #FFFACD | |
| floralwhite(SVG) #FFFAF0 | | snow(SVG) #FFFAFA | | coconut #FFFCCF | |
| yellow(Safe 16 SVG Hex3) #FFFF00 | | papaya #FFFF7E | | popcornyellow(Hex3) #FFFFAA | |
| bone(Safe Hex3) #FFFFCC | | lightyellow(SVG) #FFFFE0 | | ivory(SVG) #FFFFF0 | |
| white(Safe 16 SVG Hex3) #FFFFFF | | | | | |